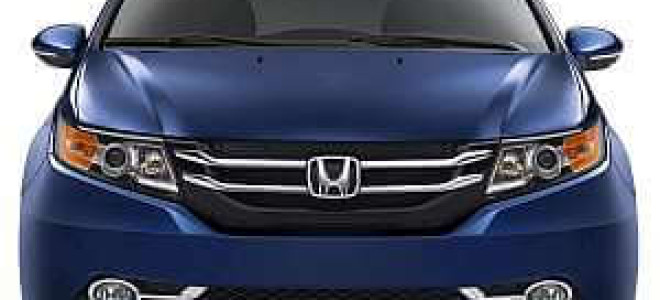 With 2016 Honda Odyssey, Japanese manufacturer aims to close the fourth generation of their space-efficient minivan. Odyssey has been around for more than twenty years now, and Honda certainly won't stop here. After 2016 year model, they will introduce a next-gen version. The Odyssey is a fine people mover; one of the best ones in U.S. market. All in all, the new Honda Odyssey 2016 is a fine option if you require this kind of vehicle and won't let you down if you need to transport a lot of passengers and their cargo with them.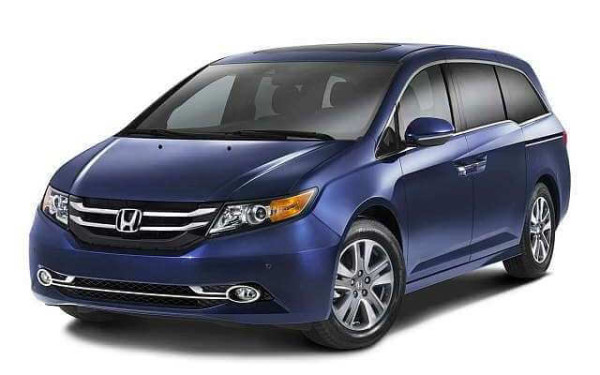 2016 Honda Odyssey redesign
The 2016 Honda Odyssey has a few unconventional design choices which it carries from previous models for some time now. This doesn't have to be bad, however, especially since rear quarter window looks good being set lower than the rest. There are a few unconventional creases as well, but otherwise, Honda's signature grille with angular headlamps and evenly shaped rear end look as good as they can. As before it is available in 6 trim levels: base LX, EX, SE, EX-L ,Touring and Touring Elite.
Dimensions
LX
EX
SE
EX-L
Touring
Touring Elite
Wheelbase
118.1 in
Length
202.9 in
Height
68.4 in
Width
79.2 in
Track (front / rear)
68.1 in / 68.2 in
Curb Weight
4396
4470
4528
4526
4540 (+Navigation)
4548 (+RES)
4581
4613
Towing Capacity
3500 lbs
Cargo Volume
38.4 cu ft (behind 3rd-row)
93.1 cu ft (behind 2nd-row)
148.5 cu ft (behind 1st-row)
Seating Capacity
7
8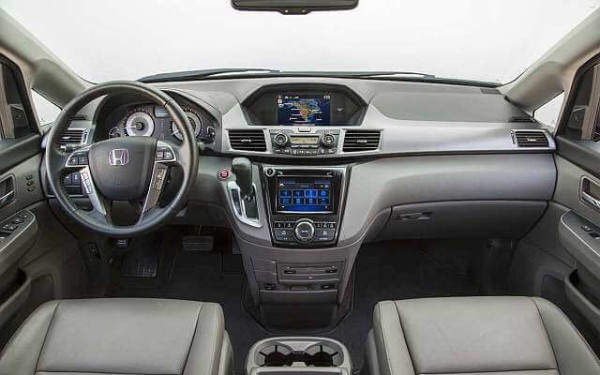 Odyssey still keeps dual screen dashboard layout which, although confusing at times, has its advantages. 8-inch touch screen display is standard from the get-go, which is nice to know, and navigation is standard piece of equipment, albeit exclusively with the top, Touring models. Interior refinement, however, isn't exactly top class. Whole cabin has this plastic feel to it which could have been avoided. Good thing is that half of available models (top ones) offer perforated leather seats which change the picture drastically. The Honda Odyssey 2016 is fitted with high-tech features and plenty of commodities. Among the features are basic or ultra wide rear seat entertainment systems, standard in Touring or Touring Elite models respectively. Blind spot information system is offered this way too, while forward collision warning, lane departure warning and multi-angle rearview camera with guidelines can be had with EX-L models as well.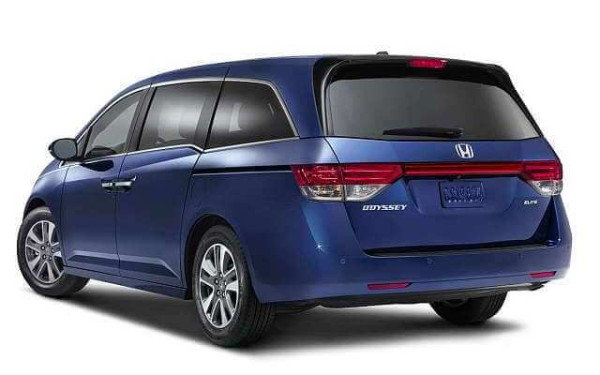 Honda Odyssey 2016 specs
Like any large vehicle, the 2016 Honda Odyssey requires adequate power. 3.5-liter V6 engine might not be the biggest thing Honda could have chosen, but it does a splendid job anyway. 248 horsepower and 250 lb-ft of torque are more than adequate to move around 4,500 pounds of curb weight. All models are exclusively front-wheel driven and feature only 6-speed automatic transmission since the latest facelift.
2016 Honda Odyssey specs
Engine Type
3.5-liter V6
Valve Train
24-Valve SOHC i-VTEC
Displacement
3471 cc
Horsepower
248 @ 5700 rpm
Torque
250 lb-ft @ 4800 rpm
Transmission
6-Speed Automatic Transmission (6AT)
Fuel economy
(City/Highway/Combined)
19/28/22 MPG
Fuel Tank Capacity
21.0 gal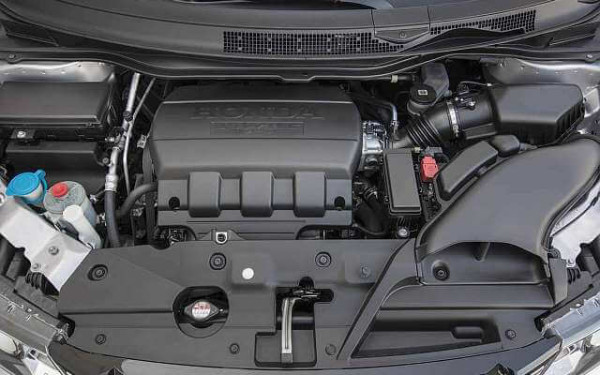 2016 Honda Odyssey mpg and price
Fuel economy ratings are the same for entire Honda Odyssey 2016 lineup, and read 19 mpg in the city and 28 mpg on the highway. Finally, entry-level LX models cost $29,000, while touring models find themselves in low forties price range. When it come next year, the new 2016 Honda Odyssey should continue with strong sales even though minivans' popularity has fallen due to large crossovers' popularity gain.
2016 Honda Odyssey MSRP

| TRIM | MSRP |
| --- | --- |
| Odyssey LX | $29.275 |
| Odyssey EX | $32.425 |
| Odyssey SE | $33.375 |
| Odyssey EX-L | $35.925 |
| Odyssey EX-L with RES | $37.525 |
| Odyssey EX-L with Navi | $37.925 |
| Odyssey Touring | $42.180 |
| Odyssey Touring Elite | $44.750 |
(excluding tax, license, registration, $880 destination charge and options)
We still waiting for new Honda Odyssey 2017!