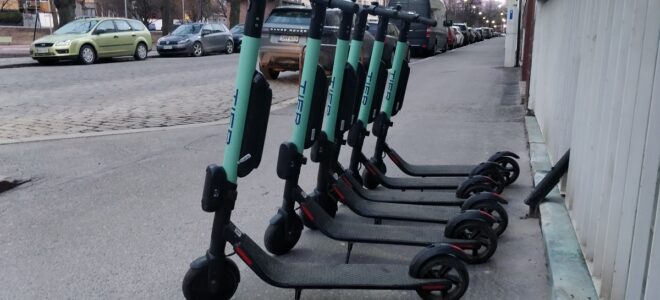 It's 2023, and we need a change. We are fed up with regular scooters which need either diesel or petrol to run. This is where electric scooters come in handy. Extremely convenient to use, environment-friendly, and fun to ride, electric scooters are the best option for everyone to use in everyday life.
Either you want to go for a short ride with friends or go to work, an electric scooter does its job. You can find electric scooters for almost any people. Either you are a kid, an adult, or a disabled person, there is a scooter designed for you. Also, the best thing is there are electric scooters with seats as well as without seats. You can also find electric scooters with both two wheels and three wheels. And today, in this blog, we will talk about the top 5 electric scooters to buy.
1) Hover-1 Journey Electric Folding Scooter
Hover-1 is convenient to use electric scooters that come at an affordable price. This scooter's design is impressive, but 8.5-inch tires make the ride real smooth and stable. Apart from its unique style, the Hover-1 is foldable, which makes it extremely easy to carry. Also, you can fit this electric scooter in almost all cars' trunks. Isn't it amazing?
Safety should be the main priority while buying electric scooters, and Hover-1 Journey Electric Folding Scooter features a foot brake capability system so that you can stop it safely. It is built with a 300W motor and reaches a maximum range of 14mph in a single charge. Starting from the $299, it is one of the most budget-friendly electric scooters you can find on the market. Learn more about Hover-1 specification, features, pros and cons, common questions, and answers here.
2) GOTRAX GXL V1 Commuting Electric Scooter
When it comes to safety, not many scooters can beat this uniquely designed electric scooter. GOTRAX GXL V1 is Ul2271 Certified, which means you can ride it safely as the batteries are underwater lab certified. Here are some pros and cons of GOTRAX GXL V1
Pros
8. 5″ Pneumatic tires: It makes your ride smoother and more comfortable.
The scooter can carry up to 220 lbs.
Budget-friendly scooter. It cost only $299 to buy.
It can go up to 15.5 miles per hour.
The foldable design makes it easier while traveling to public transportation.
The battery charges in only 4 hours, and then you can ride up to 9-12 miles.
Cons
3) Hiboy S2 Electric Scooter
No more struggle going to work when you buy Hiboy S2 Electric Scooter. It is crafted with well-built material and a long-lasting battery. The 350W battery inside the scooter lets you ride at the speed of 18 miles per hour and go up to 17 miles in a single charge. The solid tires present in Hiboy S2 Electric Scooter make your ride comfortable and smooth even in bad road conditions.
Pros
Hiboy S2 is stable and durable. Proper stability makes it easy to ride and increases safety.
Powerful engine and more extended battery life.
Foldable design. It fits in almost any car trunks.
It has an app that is easy to use. You can see the battery life and lock the scooter through the app.
It has three lights in front, middle, and back. The three lights make this electric scooter safer while riding at night time or in a darker place.
Cons
As some buyers reported, the maximum range decreases slowly after three months of use.
4) Xiaomi Mi Electric Scooter Pro 2
A well-branded electric scooter, Xiaomi Mi Pro 2, is not your average electric scooter. Remarkably high speed, a long-distance range, and the fastest folding mechanism make it one of the best electric scooters found in the market. As Xiaomi is a famous brand, customer service is top-notch, and an online helping community is vast.
Pros
A 600w powerful motor present in Xiaomi Mi helps to ride up to 25 km/h. There are 3-speed modes to adjust speed efficiently.
You can travel up to 45 km on a single charge. Thanks to its 600w motor.
Attached control system and High visibility LCD located in front of the scooter. It makes the riding experience better. You can see the battery percentage and speed in the power display.
You can fold Xiaomi Mi in only 3 seconds.
Tire quality is much better. Both tires are reinforced and, therefore, much more durable.
It has two braking systems- front braking and rear braking.
Cons
Installing and connecting the app, in the beginning, is a little complicated- But several videos make the process easier.
Xiaomi is one of the electric scooters, which is not too cheap but affordable. It comes with lots of premium features that even the most expensive scooters lack. At under $750, Xiaomi Mi is an excellent scooter.
5) Immotor GO Smart Electric Scooter
This electric scooter is a smart electric scooter. I am not saying it smart just because it has an app. I am saying it is a smart e-scooter because of its accurate GPS, better tracking system, parenting control feature, and 3g data.
It is no doubt that this electric scooter is one of the best electric scooters. But the price is a little higher for many people. It costs around $1200-$1500. The pricing is higher than other scooters because of its accurate smart features, which you rarely see in other e-scooters.
Pros
It is a foldable electric scooter. The foldable feature makes it easier to carry.
You can ride a maximum distance of 20 miles in a single charge.
The electronic brake system fitted in Immotor GO Smart Electric Scooter makes the ride safe and comfortable.
It has automatic headlights that you can control from the app or directly from the scooter.
Cons
It only weighs 31 lbs(14 kg). As this is a three-wheel e-scooter, low weight can create an unstable problem when riding at full speed.
These are the top 5 electric scooters that are easy and comfortable to ride, made with quality material, and a stylish design that many people admire.