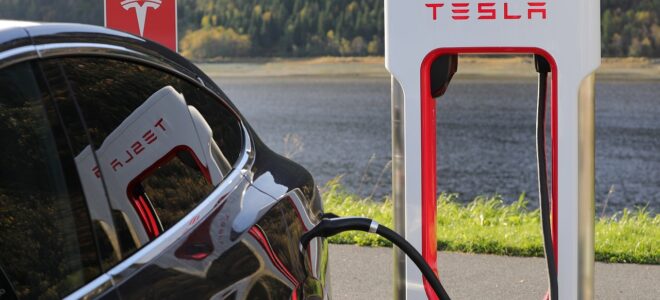 Research has indicated that celebrity actions and endorsements often influence consumer behavior. Naturally, the extent of the influence varies on a case-by-case basis. According to Chron.com though, a given celebrity endorsement can cause company stock values to rise –– and can increase sales by "about 4 percent." This is perhaps the broadest indicator of celebrities' sway over consumers.
Not a whole lot of research is available yet on this phenomenon with respect to the electric car revolution. But the hope is that celebrities' open embrace of more energy-efficient vehicles will help to spark consumer interest and expand the market. With that in mind, we want to shine a spotlight on some famous figures who have in fact made the transition to electric cars.
Leonardo DiCaprio
View this post on Instagram
Likely the least surprising figure on this list, Leonardo DiCaprio is perhaps Hollywood's best-known climate activist at this time. Indeed, a piece at The Guardian went as far as to label him "one of the world's top climate change champions" a few years ago. The actor has donated immense amounts of time and money toward spreading awareness, promoting biodiversity, protecting the oceans, and more. Given all of this, it makes perfect sense that he'd be among those embracing electric cars. He's said to drive a Polestar 2 –– all the more fitting given that he's publicly backed the company.
Shakira
Though she may not be topping the charts anymore, Shakira will go down as one of the best pop stars of a generation (or perhaps a few). A five-time American Music Award winner and six-time Grammy nominee (and three-time winner), she's best known for songs like "Whenever, Wherever," "Perro Fiel," and "Hips Don't Lie." Through all of this success, she's gained enormous influence over legions of fans –– which will hopefully extend to passing along her taste in vehicles. The pop star is known to drive a fully electric Tesla Model S (a popular choice among celebrities).
Daniel Negreanu
View this post on Instagram
Daniel Negreanu is perhaps the most celebrated poker professional of the past 20 years –– and certainly one of the most decorated. Per a Daniel Negreanu bio at Poker.org, the Canadian is a Hall of Famer with upwards of $40 million in live tournament cash prizes to his name. He's also earned six bracelets at the World Series of Poker event and triumphed twice on the World Poker Tour –– all of which has gained him massive exposure over the years. Negreanu also tends to interact with his fans and the general public more than most famous poker pros, maintaining a very active social media presence. As such, we can only hope his decision to "go electric" influences many others. Like Shakira, Negreanu has switched to a Tesla Model S.
Prince Harry
While many still think of Prince Harry purely in the context of the British royalty, it's worth noting that he's well on his way to becoming something of a Hollywood celebrity. Having moved to California, the prince has in fact laid the groundwork for a career in entertainment and influence. According to BBC.com, he and Meghan Markle have made deals with both Netflix and Spotify for content creation. That will only make Prince Harry all the more visible and influential, particularly with Americans. So here's hoping some of his fans take note of the royal couple's vehicle preferences! Harry and Meghan have been spotted in both a Jaguar E-Type Concept Zero and an Audi E-Tron.
Keyshawn Johnson
Keyshawn Johnson was a star football player in the NFL, who played for the Jets, Buccaneers (with whom he won a Super Bowl), Cowboys, and Panthers. Since retiring in 2007, he's also been a regular presence on television, analyzing football in various capacities. This makes him a particularly visible figure among football stars, and we can only hope his audience has noticed that Johnson opts to drive a Prius. We've covered Toyota Prius models before, and the truth is that before the electric vehicle revolution, these cars were the most popular choices among the environmentally conscious (including celebrities). Many famous figures have since moved on to Teslas and some of the other models discussed above. But Johnson sticks with a Prius, and sets a good example by doing so.
We're certain there are additional examples, and we hope that more and more celebrities embrace electric and hybrid cars from this point forward. Already though, there's every chance figures like these are helping to show the public that efficient vehicles are fun and progressive.