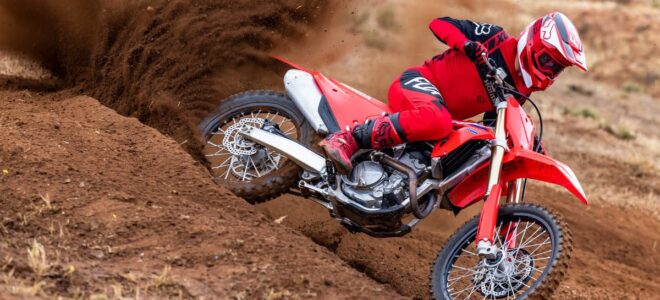 Honda is known as one of the best bike manufacturers in the world. They've consistently been one of the best teams in MotoGP, but they've also been a household name in the dirt bike sphere.
If you're into dirt bikes, which you probably are considering you're here, you know that Honda has released many bikes over the years.
Today, we wanted to try and come up with a list of the best dirt bikes for racing Honda has ever released. Now, some of this might be subjective or up for discussion, but hey, in our own opinion and in no particular order – these are the six best racing dirt bikes Honda has ever made.
1. Honda CRF 250X
Honda CRF 250X is one of the best bikes to ever come out of a Honda workshop. Also, it is one of the most popular ones, if not the most popular dirk bike on the market. For many, this is a perfect bike. It doesn't matter if you're an experienced rider or someone that is only taking up dirt biking – this one will fit.
The CRF 250X has been revamped a few times over the years, but there weren't any major changes. The bike accelerates great and reaches top speeds up to 140 km/h, making it very good for racing. Also, the bike handles brilliantly and is very comfortable to ride. Braking might take some time getting used to, but that's nothing an experienced racer wouldn't be able to handle.
2. Honda XR650L
This beast of a bike is probably one of the best and most beloved dirt bikes ever made. The first model came out in 1993, and here we are, almost 30 years later, and bike riders are still drooling over this one.
XR650L comes with a single-cylinder 650cc engine with a 5-speed transmission. With an engine like that, it is no wonder that this one can reach up to 160 km/h on a bad day.
This one also handles pretty great, so it shouldn't come as a surprise that many professional riders gladly ride this one. Now, what makes it a bit tricky for racing is the very high seat. But, if you're a bit taller, this shouldn't pose too much of an issue. This iconic bike has too much going on for itself just to be defined by a high seat.
3. Honda CRF 230
Honda CRF 230 is a great racing bike for beginners, and just like the previous two – this one's fairly beloved by the masses.
It is a great bike for starters, but experienced riders won't shy away from this one. You see, racing isn't just about speed – it's about technique, too. Honda CRF 230 comes with a 223cc single-cylinder four-stroke engine. It accelerates rather quickly, like most of the bikes on this list do, but unlike many of the other ones, this one only reaches up to 110 km/h. But, as we've said – racing is about more than speed.
The seat height on this one is great. It's well-positioned, and it allows for a greater movement of the rider. Now, if you want to read more about this one, knock yourself out. But for now, we have to move on to the next bike.
4. Honda CRF450R
If there was ever a reliable dirt bike – it is this one. The CRF450R was first released in 2008, and in just a few months – this one became a crowd favourite.
It is a great bike for racing. It's very lightweight, accelerates like a bullet, and has great suspension and brake systems. And, it is also pretty fast. It handles well, so you shouldn't have any problems comfortably riding this one, even if you're a newbie to the racing game.
The engine on this one is fairly strong. It's a 450cc liquid-cooled, single-cylinder, 4-stroke engine that will leave a trail of dust wherever you go. The bike tops out at around 140 km/h, making it quite fast for a dirt bike of this category.
5. Honda CR500R
Honda CR500R is one of Honda's oldest dirt bikes. This one's been around for almost 40 years, and unlike some of the other ones on our list – this one is not that great for beginners.
CR500R comes with a powerful air-cooled engine, as you can tell by the name. It has a maximum torque of 6000 rpm and a maximum power of 8500 rpm. When you put those two together, you get a bike that can reach up to 150 km/h – which is pretty frickin' awesome for a dirt bike. Also, when it comes to acceleration – this one's amazing. It'll go from 0 to 100 in 3.8 seconds.
The one thing that riders don't really like about this one is a very high seat. A high-seat might not be too much of an issue if you're just joy-riding this one, but in a competitive, racing setting – every inch matters.
6. Honda CRF125F
Honda CRF125F is an awesome choice for all kinds of racers – from beginners to experts. This bike's very easy to handle. It is very dependable and stable, and it handles remarkably well. It's not overpowering, as you can tell by the name, but it still packs quite a punch.
The bike's powered by a single-cylinder, four-stroke engine that propels this bike up to about 105 km/h, which is not a lot for a racing bike – but it's still more than enough for the 125cc category.
What's best about this bike is Honda's brilliant clutch. Shifting gears while riding this one is buttery smooth. Combine that with a feature like Pro-Link rear suspension, and you'll get yourself the smoothest dirt bike ride ever.
Another thing that makes this dirt bike excellent for racing is that this one's almost maintenance-free. Just clean it up after every race, pour some fuel inside of it, and you're good to go.
Conclusion:
Honda has made some incredible bikes over the years, but as far as we're concerned – these six are the best at their respective categories.
If you plan on taking on some dirt bike racing – we're certain any one of these will be a great choice.