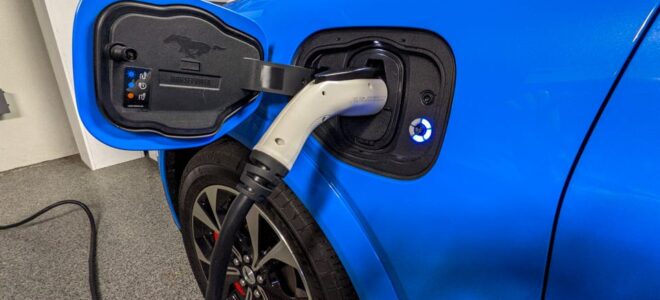 The electric vehicle infrastructure growth was caused by several reasons: the improvement of technology, oil prices, as well as the climate agenda. European and American concerns are going to stop producing gasoline cars by 2025-2040.
Despite the growth and development of the infrastructure of electric vehicles, such chargers as Cyberswitching offers are still too few to fully cope with the work.
Charging an electric car — the main types of stations and connectors
Type 1. Single-phase connector (sometimes also referred to as J1772), which became the first standard for specialized connection of electric vehicles in 2009. It is designed only for alternating current charging in Mode 2 and Mode 3 modes, and is used mainly in the USA and Japan. The maximum charge power is 9.2 kW.
Type 2. A combined (single-/three-phase) connector adopted for connecting electric vehicles in Europe. Developed by Mennekes and allows 43 kW charging power in Mode 3 mode.
CCS Combo 1 (pictured below this paragraph — on the left) and CCS Combo 2. Realizing the shortcomings of the Type 1 and Type 2 standards, automakers initiated the creation of more advanced connectors. They have additional wiring designed for direct current charging (Mode 4) with a capacity of up to 400 kW. It will not work to charge an electric car with a Type 1 / Type 2 cable from such a terminal, but there is backward compatibility — a "combo"-an electric car can be connected to a slow charging station.
Tesla Supercharger. As the name implies, this connector was introduced by Tesla, which is developing its own network of charging stations to circumvent the power limit of the American Type 1 standard. It is combined — with its help, the car can be charged with both "slow" alternating current and from DC stations with a capacity of up to 135 kW. And the new version of the Supercharger V3 liquid-cooled cable allows you to increase the charging power up to 250 kW. Tesla cars for export markets are equipped with Type 2 connectors, which makes them compatible with European charging terminals. And from the local Tesla Supercharger station, the car can be charged with a powerful direct current.
CHAdeMO. The standard that is actively used in the USA and Japan by Tesla's competitors. This complex connector in version 2.0, developed in 2018, provides charging power up to 400 kW with direct current (if there is liquid cooling of terminals), but at the same time it is able to separately feed the 12-volt network of an electric vehicle. However, most electric vehicles equipped with such a "plug" (mainly Japanese and Korean) are now able to accept only 50 kW. With the help of a special adapter, Tesla electric cars can also be connected to the terminals of the CHAdeMO standard.
GB/T. This connector (more precisely, two connectors at once — for AC and DC) was created in China, adopting some proven solutions from existing standards. GB/T provides DC charging power (Mode 4) up to 237 kW, and in the new liquid-cooled version promises to reach a fantastic 900 kW.
What is happening in the market of electric car chargers now?
Those who are just starting to get acquainted with this topic may think that charging for an electric car is something like charging for a phone. It's actually a complex ecosystem.
While this market is immature. If one of the companies or engineers wants to enter this industry, now is the best time. The entire infrastructure is changing, the car itself and charging, electricity suppliers and the infrastructure of cities are being transformed, interesting ev charging solutions are being born. These changes will affect everyone eventually. Now three segments have formed in the charging market: home, private and public.
The ev charging infrastructure is still poorly developed, so the main way to "refuel" an electric car is an outlet or a special terminal at your own home. This method is both more useful for the battery and more cost-effective, but does not solve the problem of long-distance travel. Cyber switching is a company that specializes in chargers for electric vehicles. The company has a lot of experience.
Infrastructure development
According to a report by the analytical company QYResearch, the global market for charging infrastructure for electric vehicles may reach $27.69 billion by 2027. Analysts predict the average annual growth rate of the market at the level of 18.5% during the entire forecast period from 2023 to 2027.
Among the main factors of market growth, according to analysts, are the growing volumes of carbon emissions and other dangerous pollutants from cars with internal combustion engines, low operating costs and government subsidies for electric vehicles. It is expected that the increase in the number of electric vehicles will stimulate the growth of the infrastructure market for charging electric vehicles.
Also, the state policy of the countries regarding the installation of fast charging stations, subsidies for the purchase of charging stations, increased investments of automakers in the development of charging infrastructure for electric vehicles will be able to stimulate the growth of the industry.
The demand for electric vehicles is growing along with the growing awareness of environmental sustainability and the strict restrictions that some governments impose on emissions from vehicles with internal combustion engines. Private companies are focusing on developing innovative chargers and charging stations for electric vehicles, and governments are collaborating with these companies to deploy infrastructure for charging electric vehicles.
In addition, technologies such as RFID and NFC have been actively introduced in interactive charging stations. It is expected that such technological solutions will stimulate the growth of the infrastructure market for charging electric vehicles. Standardization of connectors for charging stations will also contribute to further market growth.
Among the key players in the market, analysts note such companies as ChargePoint, AeroVironment. Chargemaster Plc, General Electric, Leviton Manufacturing Co., Eaton Corporation, SemaConnect, Tesla Motors, Schneider Electric, ABB, Siemens AG, ClipperCreek, Delphi Automotive LLP.
The global trend to increase the share of electric transport is an irreversible process, and the approach associated with a long stage of stimulating this industry is probably the only correct one: a similar policy in the field of renewable energy sources helped ultimately make production competitive and highly efficient.