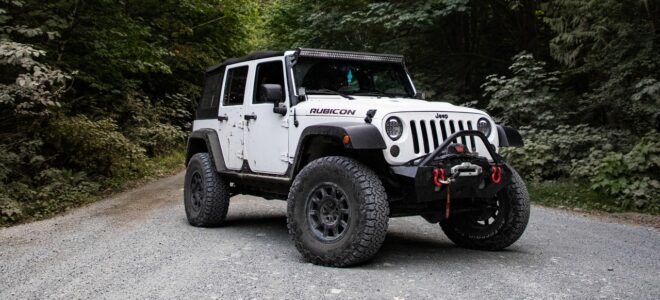 The Jeep Gladiator is the newest addition to the Jeep family, and it's giving other pickup trucks a run for their money. The Gladiator has an innovative design that differentiates itself from other pickups on the market. It also comes with excellent features that make it easy to customize your vehicle for any terrain or activity you're into! We've compiled some of our favorite features below, as well as recommendations for what modifications are best suited for first-time owners.
Where To Start With The Jeep Gladiator
There are so many mods available at 4x4attitude.com to customize your Jeep Gladiator. If you're new, you might not know where to get started; here's a list of some basic modifications that will give your ride the look and performance it deserves.
Door Locks
The doors can be locked with standard locks but if you want them upgraded, there is an electronic door lock kit that uses remote entry for keyless access or alarms on all four doors (if wanted).
Speaker Upgrade
As far as speakers go, this one is pretty easy because they sit in the factory location already built into each door panel. All you need to do is upgrade to a better speaker and you can have an audio system that sounds as good as it looks.
New Look For The Grill With A Mesh Insert
The front looks kind of plain but with a mesh insert, you can give it that cool off-road look. There are several different styles to choose from based on the color and finish you want for your grill.
Bigger Tires For Your Gladiator
If you want to make your Gladiator more capable off-road, then bigger tires are what you need. You can keep them for highway driving but the added traction will help with sand or snow driving which is where this truck really shines!
Tire And Wheel Upgrade To Give The Gladiator A New Look Not only will this upgrade help improve the stance of your truck, it also gives you better performance out on the road or trail because larger tires offer more traction than smaller ones do under certain conditions. This is an inexpensive way to make significant changes in appearance as well as overall performance ability – sounds like a win-win situation if I've ever heard one!
Side Steps Or Rock Sliders For Your Truck
If you've found a brand and model of side steps or rock sliders that fit your truck, all it requires is for the dealer to install them. If there isn't anything specific available specifically for your Gladiator, select ones that can be adjusted so they don't interfere with the gas tank door.
Front Bumper Add-Ons For Your Gladiator
Front bumper add ons for your Gladiator are also available in several styles. These can be added to the factory front end or they can replace it completely like a bull bar, winch mount (winches with synthetic rope only!), skid plate, and brush guard.
Lift Kit For Your Jeep
A lift kit for your Gladiator can be installed in several brands and styles. This is the most popular modification that Jeep owners make to their trucks because it gives them a more rugged look and makes room for bigger tires, which give you better traction when off-roading.
Cold Air Intake to add more horsepower
If you want an engine mod that will give your truck more power, then a cold air intake is the best option. You can also get performance chips or tuners but they don't add any horsepower like the cold air intake does.
Tonneau Cover for Jeep Gladiator Truck Bed
A good tonneau cover will protect your Gladiator truck bed from the elements, keep it looking sharp and prevent items from falling out of your open tailgate. It's also important to consider what kind of material you want because there are hard covers or soft folding designs for aftermarket pickups which can be opened with a strap latched over the top so they're easy to remove when necessary.
LED off-road Lights for Jeep Gladiator
If you need some extra light for off-roading at night, LED lights are a great option. These will help give your truck better visibility when you want to take it out on the trails after dark which could make all the difference between being able to see obstacles ahead or not! LED lights are what you need. Most come with a remote control so they can be turned on and off without actually leaving the driver's seat!
##Recovery Winch with synthetic rope
If you want a winch that's going to take some serious punishment, then it has to be made from synthetic rope because this is much stronger than steel. The last thing you want when off-roading is for your equipment to fail and leave you stranded in the middle of nowhere!
Seat Covers for Jeep Gladiator
If you want to keep your Gladiator looking sharp, then be sure to invest in some seat covers. These are available for both front seats and backseat passengers too! Your truck's interior will be exposed to the elements on a day-to-day basis, especially if you're off-roading. Seat covers are an affordable way to protect your upholstery while making it look great too!
Window Deflectors for Jeep Gladiator
If you want to protect your Gladiator against wind noise, then window deflectors are what you need. These can be used on both side windows and windshield too!
If your windows are prone to fogging up when it's cold out, then window deflectors will keep the interior of your car comfortable for everyone inside. They're also great if you have kids who like to roll down their own windows without asking first!
If you don't have all of these modifications already installed on your Gladiator then it's time to take action! And you can find the right products and find out what fits your truck from tonybassogm.com, which has a lot of useful information. These kinds of accessories will definitely turn heads and get people talking about how cool your vehicle looks. The more stylish choices that you make, the better off-road performance will feel behind the wheel too!