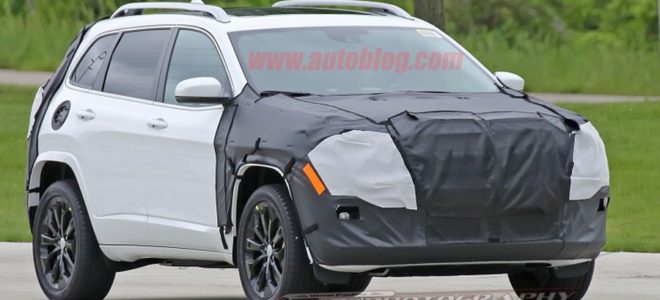 The 5th generation of the Cherokee has been released back in 2013 when it managed to stun everyone with its design. The car featured a split-headlight design which was like nothing else in Jeep's roster. Because of that it wasn't really that successful with Jeep selling considerably less models in the first two years of production than their rivals. However, this changed in the past couple of years thanks to the car's great value for money. It now seems an update is on its way with the upcoming 2018 Jeep Cherokee. This is expected to receive more than just a mild redesign. In fact a few weeks back a test mule has been spied on the road and the changes seem to be quite extensive but more on them a bit later.
This is not going to be an entirely new car like most people suggested. The car is still going to be based on FCA's Compact Wide platform which has been in use on quite a few cars now. This means the Cherokee will remain front wheel drive on the base models. While this is not appreciated by many, the front wheel drive design allows them to offer a massive amount of space inside without compromising the rest of the car. New trim levels are definitely going to be added into the mix while new engines may be installed in some models too.
2018 Jeep Cherokee Price & Release date
The price of the car is also expected to change slightly. Most rumors suggest the 2018 Jeep Cherokee will cost with up to $1,000 more than before but this will depend on the model of choice. The current Cherokee starts at $30,500. The new model can be expected before the end of this year. According to motorauthority.com new Cherokee could debut at upcoming Los Angles auto show. After the introduction it will go on sale next year as 2018 MY.
[ngg_images source="galleries" container_ids="482″ display_type="photocrati-nextgen_basic_thumbnails" override_thumbnail_settings="0″ thumbnail_width="120″ thumbnail_height="90″ thumbnail_crop="1″ images_per_page="20″ number_of_columns="0″ ajax_pagination="0″ show_all_in_lightbox="0″ use_imagebrowser_effect="0″ show_slideshow_link="0″ slideshow_link_text="[Show slideshow]" order_by="sortorder" order_direction="ASC" returns="included" maximum_entity_count="500″]
The design of new Cherokee
The test mule seen a while ago was wearing heavy camouflage both in the front and at the back. This clearly means the new car will come with a new front end and likely a rear to match. In the front, despite being so heavily camouflaged, it seems the Cherokee will receive more than just a couple of new headlights. The car seems to boast a new hood and definitely a new grille. The latter is larger than before and it seems to be mounted lower. The headlights also seem to not be split like in its predecessor.
It seems the 2018 Jeep Cherokee will boast quite similar headlights to its larger sibling which would definitely elevate the way it looks. The rear of the car seems to have a new number-plate holder, new tail lights, a roof spoiler and a new bumper. Thanks to these changes the car's rear should now see a bit less empty than before. We also said new trim levels might be added which is clear from the test mule's wheels and blacked out exterior inserts. This was likely a black edition model in disguise so we wouldn't be surprised if Jeep actually releases it on the market.
Inside the cabin – 2018 Cherokee Interior
It looks like Jeep will add radar sensors in the front and at the back. These are likely needed because the car will feature a frontal collision warning, an adaptive cruise control system and likely a rear accident detection system. All of these are more than likely going to be offered as an optional extra though which is not ideal. The design on the interior will likely not change much over its predecessor. The car may receive a new steering wheel and possibly a new center stack. The latter will likely come equipped with a larger screen for the infotainment system and possibly a different layout for all the shortcut buttons.
Under the hood of new Jeep Cherokee
The base model of the 2018 Jeep Cherokee will likely come equipped with the same 2.4 liter naturally aspirated inline 4 as before. With around 184 horsepower and 171 lb-ft of torque this will offer a good blend between fuel economy and performance. A larger 3.2 liter naturally aspirated V6 will also be available as an option on some of the range-topping models. It seems that Jeep may also add a new trim level with a possible Trackhawk. This would actually use the same 3.2 liter engine as the other models. However, this is expected to receive a small bump in power, likely to around 300 horsepower and closer to 250 lb-ft of torque. This should become the fastest model in its class where most of its rivals have to do with 200 horsepower at most.