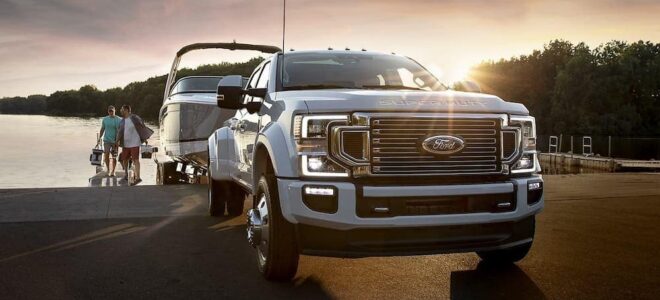 The Ford F-150 has occupied the position of one of the most liked and sought-after pick-up trucks, and for a solid reason. Its core value is robustness, and it never fails to dominate over other features regardless of the year and trim level. This truck is quite versatile, and you can find an option for off-roading, heavy-duty tasks, and high-performance.
The Ford F-150 takes towing to a new level. With an impressive highest towing capacity of up to 14,000 pounds, this truck can handle just about anything you throw at it. Whenever you are hauling a heavy boat towards the lake or pulling a trailer to that favorite spot in the woods, the F-150 has got you covered.
How much will a Ford F-150 tow?
Generally, you should be safe to pull up to 5,000 lbs with your F-150 truck without worrying about special equipment and upgrades. You can easily find this information in any F-150 towing capacity chart, for instance, this one at towingcap.com. Everything that exceeds this limit requires more attention if you don't want to damage your vehicle and risk your own safety. So naturally, a lot depends on:
year (general rule of thumb is the newer the better, and avoid 2004 F-150 at all costs)
body style
trim level
engine
towing package.
The best Ford F-150 for towing
The best builds for increased towing usually include SuperCab 4×2, and SuperCrew 4×2 configurations, 3.5L EcoBoost® V6 engine, Max Trailer Tow Package, and XL and XLT trims. With all of these options, the 2023 Ford F-150 can tow up to 14,000 lbs. So with the right configuration and trim, you will never have to worry about how big your trailer is. This truck can easily pull anything from a small camper to a common trailer.
Just make sure you keep in mind how heavy your payload is and how many passengers you are taking with you. Avoid towing at full capacity if you can and don't try to go beyond the limit. It speeds up the wear of crucial systems such as transmissions, braking, and steering. Not to mention that it significantly reduces fuel efficiency. If you're not sure about towing with your F-150, consult the owner's manual or give your local Ford dealer a call.
Another factor to consider is that you can always upgrade your vehicle to increase its towing capacity. Sure, in certain situations, it might cost almost as much as buying a new car, but it really depends on the scale of the modifications and your desired outcome. So that applies only to heavy engineering modifications to significantly boost your car. Just do your research before installing a turbo and adjust other systems accordingly to accommodate your upgrades and minimize any potential risks.
Why EcoBoost® is the best Ford F-150 engine for towing?
Ford F-150 has powerful engines to allow the truck to do its job well. However, it takes specific properties to make your car good for towing specifically. And those properties are torque and horsepower.
Torque is considerably more important in towing than horsepower. To assist the engine with heavy loads your car needs high torque values at the lower end of the rpm band. To put it simply, this increases pulling efficiency at a much lower speed. A vehicle with a lot of torque can tow trailers or other heavy goods at low rpm, and that is exactly what you would like your engine to do.
As you could have already guessed, the unrivaled champion among the engines for Ford F-150 is the 3.5L EcoBoost® twin-turbo V6 engine. With this beast, your vehicle will be able to tow up to 14,000 lbs in the correct configuration. Torque is something you want to consider before towing a large payload, so this engine provides 500 lb-ft to give you all the power you need.
With this engine you can tow any RV, the fifth-wheel camper included. However, it is not a good idea to pull something this bulky and too close to your capacity limit. The difference in size between the RV and a smaller truck will result in bad control. And moreover, you can pull up to 3,230 lbs of weight in addition to the trailer you're towing when properly equipped.
In comparison, the smaller 2.7L EcoBoost® can get up to 325 horsepower, 400 lb-ft of torque, and tow up to 10,000 pounds. It is a great engine to have if you are towing frequently but not at full capacity. If you are not going to be towing really big RVs or boats, there is no reason to go for the maxed-out F-150.
Instead, you might consider higher trims that offer more comfort for the driver and passengers, smaller engines, and more fuel efficiency. If that looks more appealing to you, then 2.7L EcoBoost® is your best bet.
The F-150 tow package VS the Max tow package
If you are unfamiliar with the name, tow package is a set of special equipment and hardware you need to have installed to deal with serious towing over 5,000 lbs. They can come from the aftermarket or the factory itself. The latter is much more preferable since its compatibility with the car is out of the question.
The standard Trailer Tow Package includes:
regular 4 pin trailer wiring harness
towing/hauling mode
trailer sway control
engine oil cooler
The 3.5L engine F-150 comes with the Maximum Trailer Tow package, which includes the following features:
rear axle with an electronic locking system
a 36-gallon tank
hitch receiver of the IV class
smart connector
better control over the trailer braking system
a bar for stabilizing the front
and a hitch lamp
Its major difference from the standard Trailer Tow Package is that it grants additional 2,700 lbs of towing capacity.
While towing capacity is important, what really matters is to have a well-rounded truck. After all, towing is not the only thing you would be doing with your Ford F-150. It should still be able to serve you well in other aspects to make it worthwhile.
Bottom line
When towing a trailer, car or boat, it is important to have the correct engine for the job. The Ford F-150 has several models to choose from, but the 3.5L EcoBoost® twin-turbo V6 engine is the best option for towing large payloads. It offers 500 lb-ft of torque to give you the power you need to tow safely. For a smaller payload, the 2.7L EcoBoost® is a great option that is more fuel-efficient.
When towing, it is also important to have the correct equipment and hardware installed. The Ford F-150 offers a standard Trailer Tow Package that includes everything you need to safely tow heavier loads. For even more power, the Maximum Trailer Tow Package is also available.
And remember to stay within your threshold and don't tow at full capacity if you can avoid it. Drive safely!