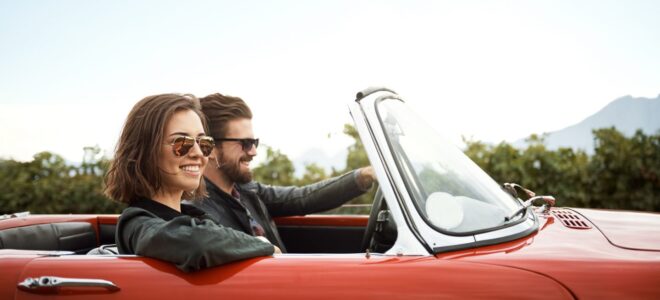 A rental automobile is a great option for travelers, in that way you get the optimal conditions for almost any kind of trip: highland, lowland, or even for a ride around the cities. Moreover, it saves your time and makes you independent of the public transport timetable. If you are afraid of doing the wrong choice – read our tips below.
1. If possible – book beforehand
It's an easy way to minimize the problems and make sure your reservation process would be smooth. Doing it a week or two in advance is ok. When you make an advanced reservation you may get some benefits such as the possibility to choose from a wider vehicle list and plenty of booking discounts.
2. View the age restrictions
Before you rent a car you have to check whether it's possible to drive it for those who are under 25. They don't actually care even if your 22-years old son has a perfect driving record. The companies just see youth as an additional obligation towards their goods. Lots of car rental companies charge an additional fee, starting from 20 or 21 years old(exception is Michigan and New York where the minimum rental age is 18). And some automobile models are often inaccessible for those under 25 drivers. We recommend checking the Alamo car rental age and rental24h.com to make sure their services are available for you.
3. Get the insurance when needed
The foreign visitors might take advantage of the travel insurance policies, as well as the people who have their own personal vehicle insurance with coverage for rental vehicles. On the other hand, not all insurance policies offer that expensive sort of coverage. It simply may not cover all the expenses regarding a rental car collision.
The truth is that rental car insurance offers a major perk. Mostly, it doesn't affect your own personal insurance policy when the accident happens. Thus, your premiums would stay untouchable!
4. Don't rent a car at the airport
Firstly, it seems quite attractive and easy, and then you see the prices… High costs are the results of the obligations the companies take over while doing business at the airport area. There is also an additional charge for some special areas – it's very common. It might be up to 30% of the whole cost. Avoid that overpayment simply by renting in another place.
5. Pay attention to a car's condition
You may suppose that all provided vehicles are always perfectly fine, but sometimes Murphy's law may enter into force. For that cases, even if it's a rental car from Alamo, try to check all the details before your go out of the parking space. Test the wheels, ensure the extra one is there and that it's inflated, and make a photo of the mileage and other car parts. Talk to the manager if you find any harm. You may require another one, or just ask to note down it in your contract.
6. Don't forget to find out the transmission
An easy detail to skip, especially when it's your first-time car rental. Some drivers don't care much about it, but for others, it might make a difference. If a manual gearbox isn't what you prefer, see the car has an automatic one. Of course, the automatic gearbox is more frequent in the US, so it can take time to find another, take this into account.
7. Ask for the GPS or take yours
A company may offer you an already sat nav or other GPS devices, but to be honest, it's rarely worth it. Often, you have to pay every week for the usage, it may reach up to 100 dollars per week. Thus, look for GPS apart or download an app, like Google Maps. Check whether the company has a GPS lower cost proposal for the first rental. As a last resort, you may request the paper maps, and representatives even may mark the route for you.
8. Use a credit card for payment
It's not only a convenient way but economical as well. Some banks cooperating with rental companies give you a cashback and considering a usually solid amount of a purchase, it would be quite pleasant! By the way, to verify you can meet the expenses, rental firms may check your credit score, however, fewer do it lately.
9. Know about the petrol policy
Picking up the full tanker car and giving it back the same – is a circulated thing. Want to leave this care for the rental shop? Then, be ready to pay 2 or 3 times higher than the actual fuel price. Do you want it? One more, some services give you a full tanker and suggest you use it all and don't give you refunds for the remainder. To not complain further or feel cheated, just check the policy regarding this.
10. Keep in mind unobvious fee charges
Here is the list of some unexpected spending, that can be superimposed on the total bill cost:
Extra pay for other drivers per day. Adhering to one driver would save your money;
Extra mileage
Late pick-up
Try to specify your flight or details of the journey. Thus, a manager knows if your flight has been delayed and shouldn't rent the car you chose to another customer;
Don't be late, the services often start to charge rate when it's 30 minutes left;
You better refuel the vehicle before returning, or you are likely to pay a hefty premium;
Don't hurry up while exploring the vehicle and take your time to get used to it. We wish you to make the best choice to fully enjoy your trip to the United States!