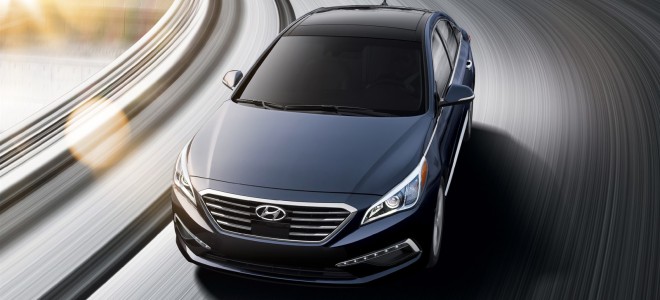 Get the customers and keep them coming is the phrase to live by. However, how does one do that and to be more precise, how does a motor vehicle company do this? Well, by continually showcasing new models that each time prove them relevant to the market. With this, Hyundai continues to keep fresh its models a fact that is evident with the new 2015 Hyundai Sonata review. Currently in its seventh generation, the Sonata is a very influencing mid-sized sedan that is continually causing problems to other competitors. While the Sonata may not be at the top position currently, it does show lots of potential.
2015 Hyundai Sonata review
Exterior
In comparison to its predecessor, it has grown a little bit larger. The overall length has gone up by 1.3 inches while the width increases by 1.2 inches. The other dimensional changes can be ignored but they do help to increase the wheel base by 0.4 inches. With its more mature look, the new Sonata model features crisper lines and a more upright appearance on the grille area. This grill area contains a wide air intake which defines the front facia of the new Sonata. Roofline still has the coupe-like line but despite that in has plenty leg- and head-room. With this line it has really low drag coefficient of 0,27 which is lead in midsize sedan class. It comes with standard LED daytime running lights, a rear lip spoiler, 16" alloy wheels, and dual exhaust that gives it a premium look. Complete with the running LED lights, the high intensity discharge lamps are standard while the LED taillights and head are optional.
Interior
Iinterior of the Sonata continues with the mature theme with much more space on the inside. Throughout the cabin is an orange single needle stitching that provides just the right contrast with charcoal leather seats. In addition to this, the interior is also a quieter place as it has extra soundproofing in the dash board to keep the engine noise at bay the rear seat can accommodate up to six footers with no problem whatsoever though some passengers may find that their heads are closer to the ceiling than theirs.
2015 Hyundai Sonata specs
The new Sonata has forgone some of its strengths for better performance and refinement, which if you take a close look at it is a well calculated swap. Being the lightest of all cars in it class, and the very first to move to a four-cylinder engine, the Sonata couldn't ask for more the entry level engine for this car is the 2.4 liter four cylinder direct injection engine that gives the car a 190 hp and a 179 lb-ft of torque. The fuel economy is at 24 mpg while in the city and at 35mpg while driving on the highway.
The sonata Eco is however powered with a 1.6 four liter engine that is turbo charged that has the ability to generate 177hp and 195lb-ft. the power is sent to its front wheels through a seven speed dual clutch system (new) that enables the Hyundai go back to 28mpg while in the city and 38mpg on the high and a 32mpg combined.
 2015 Hyundai Sonata price
The new 2015 Hyundai Sonata price begins at $21,150 and goes up to $33,525 for Hyundai Sonata Sport model.
2015 Hyundai Sonata pricing

| Model | Engine | Transmission | MSRP |
| --- | --- | --- | --- |
| SE | 2.4L I4 | 6-Speed A/T w/SHIFTRONIC | $21.150 – $22.350 |
| Sport | 2.4L I4 | 6-Speed A/T w/SHIFTRONIC | $23.175 – $26.625 |
| Limited | 2.4L I4 | 6-Speed A/T w/SHIFTRONIC | $26.525 – $31.575 |
| Sport 2.0T | 2.0L Turbo I4 | 6-Speed A/T w/SHIFTRONIC | $28.575 – $33.525 |
Freight charges for the 2015 Sonata are $810 and not included in the prices above.