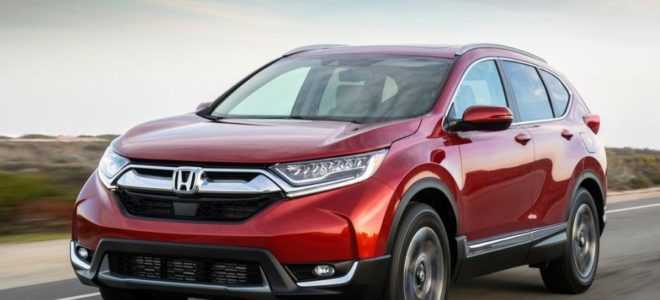 The new generation of the CR-V has just been released but this doesn't mean the car is perfect. Even though it is a good car, there are still some flaws with the new CR-V. For starters, the car has one of the worst infotainment systems on the market. It also lack a high performance model despite the fact it drives better than some of its rivals while being at least as comfortable. All of these issues are likely going to be addressed with the 2018 Honda CR-V. So far not much has been revealed but this will more than likely be a mild update at best. Both the design as well as the running gear are expected to be carried over unchanged to the 2018 version.
Honda is still using an old generation engine as the base for the CR-V. This is likely going to be discontinued altogether. Also, it seems that a sports version might be added to the range in order to make the car more competitive. This would be needed especially now when some of its rivals are also going to be updated with more power. The price for the CR-V won't change much. The base car will still start at roughly $25,000 but its top end models are now expected to go past $35,000 which would make it one of the more expensive cars in its class.
2018 CR-V Interior & Exterior
The interior of the 2018 Honda CR-V will likely be carried over with very few changes, at least when it comes to its looks. Things are going to be improved in the new CR-V. For starters, the car is expected to receive more active safety features, such as an active cruise control and even an automatic braking feature. On top of all that the largest change is expected to be the infotainment center. While the new one is better than its predecessor, it still isn't good enough. This is because Honda decided not to use any physical shortcuts.
This is likely going to change, especially since there is plenty of space on the infotainment's bezel for the extra buttons. If this will be improved then the CR-V will become better than ever before. Its exterior will not change a bit. The car will likely come with the same wheels, color options and even the same corporate design as before. The rumored sports model might add a few unique touches but this has yet to be confirmed.
2018 CR-V Honda Specs
Here the current version is available with either a 2.4 liter naturally aspirated inline 4 or with a 1.5 liter turbo-four. The 2018 Honda CR-V might ditch the larger engine altogether in the favor of the smaller and more powerful turbocharged mill. This currently offers an impressive 190 horsepower and 179 lb-ft of torque, all while offering up to 29 MPG on average which is quite impressive. This fuel consumption is mostly thanks to the car's CVT gearbox which happens to be one of the best on the market. If Honda decides to go ahead with the high performance CR-V then expect it to feature not only a new engine but also a new transmission.
Most rumors suggest that Honda's new 2.0 liter turbo-four would be the perfect offering in this case. With up to 300 horsepower and 300 lb-ft of torque this tiny engine would allow the CR-V to compete with its V6-powered competitors. Unlike the 1.5 liter engine, this one is likely going to be mated only to an 8 or 9 speed automatic and an all wheel drive system. With this combo the CR-V should be able to achieve a 0 to 60 MPH time of less than 6 seconds which would put it right up there with the fastest cars in its class.
2018 Honda CR-V Release date & Price
As a carryover model, new CR-V is more than ready for launch. With changes focus only on the inside, there wasn't too much to be done. According to sources from automotive industry such as practicalmotoring.com.au, the release of 2018 Honda CR-V will happen in July. With little more than one month of the wait, this SUV couldn't be closer.
Since the launch is behind the corner pricing has also been announced. The entry trim VTi starts at $22,880; VTi-S 2WD goes for $24,800 while its AWD counterpart starts at $26,400; 2018 Honda CR-V VTi-L starts at $29,800; and , the last option which is VTi-LX goes for $33,000.