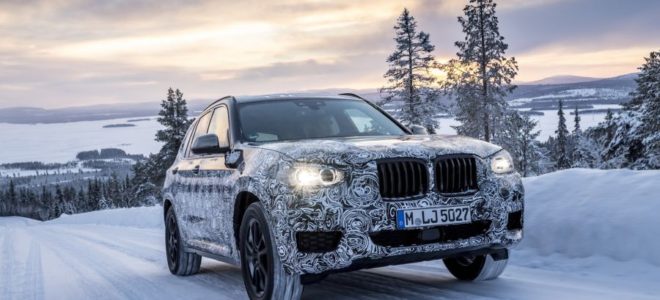 The X3 is one of the best selling cars in its class thanks to a dynamic chassis and highly capable engines. The car also offers a good amount of features and one of the best interior when it comes to the quality of the materials. Unfortunately the current model will be discontinued because it is using an aging chassis. Luckily though, a new version will take its place. The upcoming 2018 BMW X3 will carry over all of the previous' car strong points while having none of its drawbacks.
The new X3 will be BMW's first OKL-based crossover so far. The new platform is an all aluminum design with carbon composites reinforcing key areas. Thanks to that the structural rigidity of the X3 will increase by a good margin while its weight should also go down slightly. BMW hasn't released much when it comes to technical specs but it seems the new model is both wider and longer than before. The car also seems to sport a longer wheelbase which has been possible due to the fact BMW will release a smaller crossover to fill in some gaps in their portfolio.
2018 BMW X3 Release date & Price
The release of 2018 BMW X3 is going to happen at 2017 Frankfurt Motor Show is September. This date applies to the production-ready model which will be showcased for the first time in Frankfurt. It is important to mention that the German manufacturer did not confirm the release date, but sources from industry such as carscoops.com claim that it might happen in this particular motor show. As for the start of the sales, they will begin by the end of the year or early in 2018. Also, the M Edition of X3 will arrive but slightly later compared to the regular installment.
The price for entry level model of new X3 will most likely start at $42,000, and it will go far into mid-$60,000. The price could even go further up for a fully loaded X3 M, but official pricing remains to be published by BMW.
2018 X3 Specs
One of the main reasons for the 2018 BMW X3's price increase is the powertrain. While there will be economical engines offered with the car, most people will go for the higher end versions. The X3 20i, 25i and 30i are all going to use a new generation 2.0 liter turbo-four which is expected to make anything between 180 and up to 290 horsepower. A 2.0 liter diesel is also going to be available in Europe offering up to 200 horsepower. With this model it has been confirmed that BMW will offer new trim levels. The first is the X3 M40i which is expected to make use of a 3.0 liter turbocharged inline 6 good for over 355 horsepower and 350 lb-ft of torque.
The second is the X3 M40d which will likely get a 3.0 liter twin or triple-turbo diesel with as much as 330 horsepower and north of 500 lb-ft of torque. Both of these are expected to come with all wheel drive and an 8 speed automatic. The last new version is going to be the 2018 BMW X3 M which is more than likely going to receive a twin-turbo inline 6 with north of 425 horsepower. This would make it the fastest version of the X3 to date. A 6 speed manual is unlikely but not impossible.
[ngg_images source="galleries" container_ids="467″ display_type="photocrati-nextgen_basic_thumbnails" override_thumbnail_settings="0″ thumbnail_width="120″ thumbnail_height="90″ thumbnail_crop="1″ images_per_page="20″ number_of_columns="0″ ajax_pagination="0″ show_all_in_lightbox="0″ use_imagebrowser_effect="0″ show_slideshow_link="0″ slideshow_link_text="[Show slideshow]" order_by="sortorder" order_direction="ASC" returns="included" maximum_entity_count="500″]
Exterior & Interior Design of new X3
So far it seems that the 2018 X3 won't change all that much when it comes to its looks. All the camouflaged versions seen so far were all quite close to the current car. This means that BMW will continue with the evolutionary design which worked wonder so far. In the front the car will receive a larger grille and slimmer headlights while in the back the X3 might get a sportier look, more similar to that of the upcoming X2. The M version seems to be wider, lower and quite a bit more aggressive than the standard cars. It also seems to boast 21 inch rims which are among the largest ever used in a car at this price point.
Unfortunately the interior is still well under wraps but even so we know what to expect from BMW. For starters, we are quite sure that the X3 will share most of its cabin with the 3-Series. The two cars will likely get the same dashboard, instrument cluster and seating layout. The big difference will be that the crossover will offer more headroom and possibly sliding rear seats.
Competitors
The all-new BMW X3 is few touches away from being completed and even less far from entering the fray and battle with rivals for its place on the market. Most notable adversaries of X3 crossover include Porsche Macan, Porsche Macan Turbo, Mercedes-AMG GLC43, Jaguar F-Pace, Audi Q5, Mercedes-Benz GLC-Class, and Mercedes GLC-Coupe.