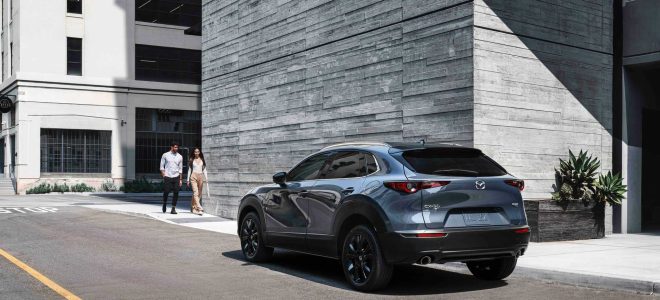 So here you are with your acceptance letter, packed suitcases, and ambitious plans for college. Life is good, and you are ready to conquer the world. But wait. What is missing in this picture? A perfect student car, of course. Indeed, each college student needs a good vehicle to keep up with all their tasks and activities. How else can they be in classes on time and explore new areas around campus?
However, choosing the right car, especially such an important one, can get tricky. One needs to set a clear budget, choose their requirements and expectations for the car, and start looking. Here are some student car suggestions to narrow down your choices. Who knows? Maybe your next car is on the list below!
1. 2023 Mazda CX-30
How about starting your college years with style? The 2023 Mazda CX-30 is a great choice for those who want to make a strong first impression. It's one of the most luxurious SUVs you can find on the market at that price and accessibility. The vehicle certainly looks impressive with its bold design and upscale cabin. Yet, wait till you get inside. Students will find everything they need for a comfortable ride. You can enjoy a Wi-Fi hotspot, Apple CarPlay, 8.8-inch display, and more.
It's a great choice for long-distance road trips with friends or comfortable rides around the city; not to mention that it's a great deal for its price. You can spend around $20,000-$22,000 for a new car.
2. 2023 Kia Soul
Kia has always been a good friend to all students. This manufacturer makes reliable, easy to maintain, and budget-friendly car models that are so popular among young people. Well, the 2023 Kia Soul is no exception. This model has already been named the best subcompact SUV in its price range. It fully deserves the title. With $18,000, the vehicle delivers everything a student needs for a comfortable and safe ride around the city and across the country.
The Kia Soul scored four stars on the NHTSA crash tests, which is pretty high up for the safety features. It also has a memorable sports vehicle design and the ability to upgrade its interior features to some of the premium class. Not to mention a spacious and high-tech cabin with an excellent audio system, 10.25-inch touch screen, a Smart Key, and wireless charging.
Overall, such a car will make all the difference in the world for students who prefer to drive in style and comfort.
3. 2023 Toyota Corolla
Of orcs, how could we make a student car list without this classic option? The Toyota Corolla has always been a popular budget car option for students and young families. Why wouldn't it? These models are always accessible, easy to maintain and service, reliable, safe, and with good fuel economy. Aren't these what we all value in a car? To make a better reference for students, just think about https://scamfighter.net/ when you need to review the writing service. Toyota is just as reliable as that.
The 2023 Toyota Corolla hasn't become an exception. Though not the quickest of all Corollas, the model is the most efficient one. It will save you much on gas and maintenance costs while also keeping you safe with all its new safety features. Among all the safety benefits, pedestrian detection, forward collision warning, and lane keep assisting are the most impressive ones to notice. You may purchase this model for less than $20,000.
4. Hyundai i10
The Hyundai i10 can be a great choice for students. It's a compact yet practical little city car with everything you need for a comfortable ride. This Hyundai model has a stylish, sporty-looking design. Its high maneuverability and small size make it an easy car to park and drive along busy roads. However, don't be fooled by its petite looks. The car manages to be rather spacious and comfortable for drivers and passengers. Though, it'd make more sense to look for another car if you are above average height.
Overall, the Hyundai i10 has everything you expect from a modern car, like safety technology and a multimedia player. You can purchase a used model for half its price of only around $7,000.
Steps before a purchase
Once you have set your eyes on a few car models, go to a car dealership. See those cars in person, examine them and ask for a test drive. Do not skip the latter! It's such a crucial step. Also, don't be shy to review everything before you start the car. It doesn't matter if you are purchasing a new or used car. You still have to get your hands dirty and inspect everything about it, inside and out. See that there are no leaks, scratches, weird smells, etc.
Make all the necessary adjustments before the drive. Don't rush it, and make yourself as comfortable as you can be in a new car. The first feel of the vehicle is important for making your final decision.
While driving, use different services and technologies built into the car. Try various road types, such as driving uphill, curvy roads, twists, etc. See how the car behaves when you have to break hard or turn in small street corners. Try parking. Pay attention to how the car behaves and whether you notice any red flags in its behavior. Perhaps, even roll down a window and listen to the car sounds. There should be no suspicious noise.
Lastly, talk to a salesperson while driving. They know all about the car and how to maintain it. Ask them about its tires, maintenance prices, or the best shops for this model. Such information may also help you make up your mind about the purchase.
Remember, there is no perfect car for everyone. Yet, all students can choose an ideal car for their needs and budget. You just need to know what you want. Good luck!