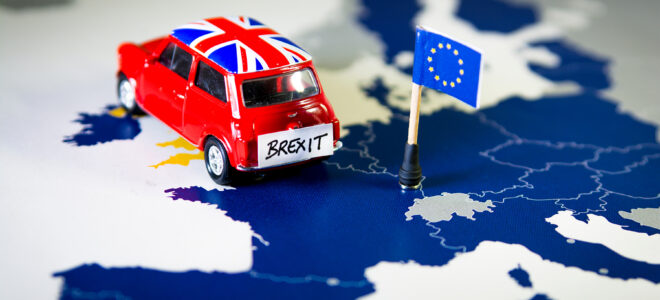 As the legal ramifications of Brexit continue to iron themselves out (or not), one feature of international travel within the EU for UK citizens appears to have survived unscathed; cross border vehicle insurance. With levels of bitterness still present on either side of UK – EU frontiers occasionally flaring up (like the "sausage war" on the Irish border), it seems that there is simply too much at stake for this one vital link in the chain of international travel for insurance to hold things up any further. With so much cross border trade and traffic still taking place, this is a situation which will hopefully remain for the long term.
The Green Card Scheme
The system of cross border travel insurance across Europe is known as the Green Card scheme. This is because it used to be necessary to have such a card with proof of vehicle insurance in your home country when crossing a European frontier. In fact, the need to produce an actual green card has long been unnecessary. Its principle is the same, however, while in any green card signatory country, your vehicle will be covered in the same way as at home; any expense incurred by mechanics etc. in host countries is redeemable via the green card system. In much the same way, a vehicle which has an in-date MOT check is deemed roadworthy in those other countries.
Perhaps one reason the green card insurance system has escaped political attention is its history. The scheme was introduced by the United Nations after the second world war, and as such predates the European Union. In fact, the scheme has always been open to "third countries" outside the bloc; today that includes Andorra, Bosnia, Iceland, Liechtenstein, Norway, Serbia, and Switzerland. And, of course, the UK. It's important to remember that insurance will be needed for any towed vehicle as well as the main one; so if you're taking your caravan, that needs green card cover as well.
Most UK insurers and recovery companies offer standard deals on green card based insurance. For instance, if your car breaks down or has an accident while abroad, it should be covered to a cost of £500 for repairs. If the cost will be more than this, the recovery will offer to bring your vehicle back to the UK, as long as it is not beyond repair.
New Measures
In what will come as a pleasant surprise to many motorists, in fact travelling to and from the European mainland may actually be easier, thanks to measures brought in in August 2023. That month saw the withdrawal of the need of a physical card when crossing frontiers. Although it had been possible to print these at home, this was not something many people were able to do; especially as it meant buying green stationery. There are still countries which require a green card, although the document does not actually have to be green any more; these are Albania, Azerbaijan, Belarus, Iran, Israel, Moldova, Morocco, Russia, Tunisia, Turkey and Ukraine. It may also be necessary to register any towed vehicle before travel.
While the green card insurance scheme covers your vehicle/s at the third party level as at home, the situation can be complicated by other drivers when abroad. While UK insurance often covers drivers if they're hit by uninsured drivers, this may not be the case when travelling abroad. In the case of any accident or breakdown, the first step should always be to contact your insurer. All major UK companies work with partners across Europe, so this should not be too difficult. While it may not be possible to recover the cost of repairs, at least there is the comfort of knowing these can actually be carried out in the host country thanks to the green card scheme; or if not, your vehicle/s can be brought home.
Standard Approach
In times of uncertainty, it is comforting to know that some essentials remain unchanged, at least for the foreseeable future. If travelling to Ireland or the European mainland, you can be sure that your MOT check means your vehicle is safe and roadworthy, and the green card – even if virtual – guarantees a decent level of cover when you cross into another country. Advice and checks from trusted experts like those at checkmot.com give extra peace of mind before travel, making your trip abroad as stress free as possible.