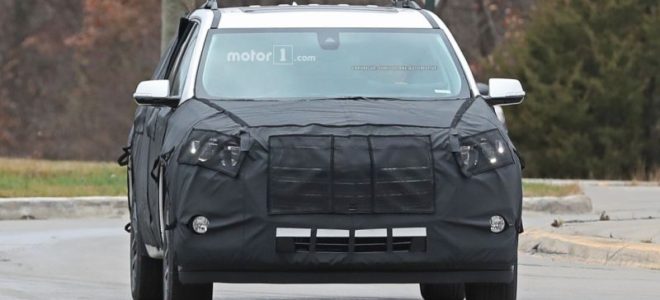 For those needed a minivan but hating the look, manufacturers came up with seven seats crossovers. These are basically minivans in disguise and this is exactly the case with the current Traverse. The car is spacious, comfortable and quite efficient for how big it is. The drawback of the current model is its age. The car is nearly 10 years old so it is not as successful as it should. In order to spring some life back into it, an all new model is going to be released with the 2018 Chevrolet Traverse. This will be a bit more different than before. The current model is nearly identical to the old Acadia. Well, this is not going to be the case here.
Why?
In order to differentiate the two models more, GM changed the purpose of the cars. While the Acadia shrunk and became more luxurious, the new Traverse will turn into a much better people carrier. Its eight seats will remain an offering and its large size won't change. However, the platform it will be built upon will. This will make heavy use of high strength steel and it should allow them to drop more than 300 pounds. Thanks to that the new 2018 Chevrolet Traverse will likely become better to drive, safer and more economical. It will likely be released by the end of 2017 while its price will still be around $30,000.
2018 Chevrolet Traverse – How it will look?
The Acadia is a good step in the right direction and we are sure that this will be the case with the new Traverse as well. While Chevrolet hasn't released any pictures before its official unveiling, the car has been spied a few times so far. It seems that they are going for a more SUV-like design which is what people want in this category. It will be larger and more imposing than its close sibling, the Acadia, but some traits will be carried over to it. The front end will likely sport Chevrolet's new grille design with the slim headlights while in the back we expect a revised Acadia-look.
[ngg_images source="galleries" container_ids="421″ display_type="photocrati-nextgen_basic_thumbnails" override_thumbnail_settings="0″ thumbnail_width="120″ thumbnail_height="90″ thumbnail_crop="1″ images_per_page="20″ number_of_columns="0″ ajax_pagination="0″ show_all_in_lightbox="0″ use_imagebrowser_effect="0″ show_slideshow_link="0″ slideshow_link_text="[Show slideshow]" order_by="sortorder" order_direction="ASC" returns="included" maximum_entity_count="500″]
The interior
The cabin of its sibling has been toned down quite a bit over the older model and that's great. Everything became easier to understand and everything is accessible immediately. The 2018 Chevrolet Traverse will likely follow this type of design. Expect most of the instruments, features and materials to be those found in Chevrolet's other vehicles found at this price point. Its largest selling point is going to be the space. The Traverse is not only going to offer room for seven or eight but also enough room for their luggage. This will allow it to basically compete with minivans without having to look like one.
Under the hood of 2018 Chevrolet Traverse
The Acadia can be had with a 2.5 liter petrol engine on the base model. Some suggested that the Traverse will receive the same engine as well. However, this is not going to be the case. Despite losing quite a bit of weight, the Traverse will definitely receive, as standard, the 3.6 liter naturally aspirated V6. This currently makes in its sibling up to 310 horsepower and 271 lb-ft of torque. This should be more than enough to allow for a 0 to 60 MPH time of around 7 seconds. The transmission is expected to be a 9 speed automatic.
The Acadia currently has a 6 speed only because GM's 9 speed front wheel drive box is not ready for production. By the time the Traverse will be out this should be done. Like before, the car will also be available with an option all wheel drive system with an electronic ABS-based traction control system.