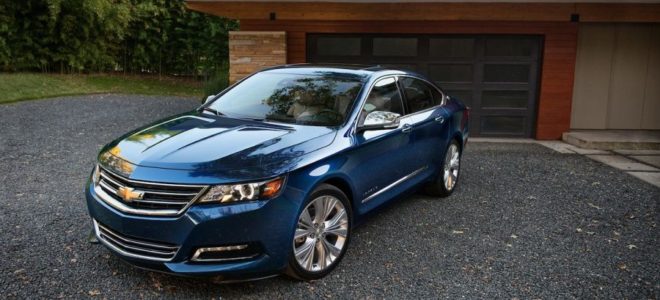 Chevrolet's full size sedan, the Impala, has been released back in 2012 but so far the car received numerous updates. While it does have a rather unusual design, so far the car has been quite successful. This was mostly thanks to its good selection of engines and features which always allowed it to be a step ahead of the competition. This is not really true anymore, especially since most of its rivals have already been heavily revised. While we did have high hopes for it, the upcoming 2018 Chevrolet Impala is not a redesigned model but instead a mildly upgraded version.
Chevrolet chose this path because it allows them to focus on their other models, mainly their crossovers. Even so the Impala remains a good offering, especially for those who really like sedans. The 2018 version will retain all the great things about the Impala and add a few new ones. However, Chevrolet is also removing some features in order to make the ordering process more streamlined. The price hasn't been revealed just yet. However, it seems the base model will continue to hover around $28,000 which is good, especially for all the kit it is going to offer.
2018 Impala Specs
Nothing will change here which is a bit of a shame. We really had high hopes for the 2018 Chevrolet Impala but it seems the new 9 speed automatic is not going to be used here. Instead the new car will carry on with the same set of engines as before which is not all that bad. For starters, the base model will come with a 2.5 liter naturally aspirated inline 4 mated to a 6 speed automatic driving the front wheels. This engine will provide up to 196 horsepower and 186 lb-ft of torque which is slightly more than some of its rivals. The higher end models will get a larger 3.6 liter naturally aspirated V6 good for 305 horsepower and 264 lb-ft of torque mated to the same automatic. Both engines will offer around 30 MPG on the highway which is quite impressive. The only real drawback will remain the lack of an all wheel drive model which would have made everything to much better.
2018 Chevrolet Impala Redesign?
GM confirmed that the 2018 Chevrolet Impala will receive quite a few new features. For starters, they will add 3 new colors for the exterior as well as a new "Sunroof and Spoiler" package. This will be available across the range and it will add an all electric sunroof as well as a subtle rear spoiler. Unfortunately the 19 inch rims are no longer available but Chevrolet did add a new set of 20 inch rims which will be available only on the top end models. The base version of the car will now receive LED daytime running lights, which were previously unavailable, as well as a color-coded set of mirrors and front grille.
Not much will be changed here when it comes to the overall look of the cabin. However, there will be some new features which should sweeten the deal even more. The base version will now receive an 8 inch infotainment system with a motorized screen, an extra USB port as well as a digital compass. Further up the range Chevrolet is going to offer a remote-start system while the top end Premier will come with considerably more equipment than before. This will include Chevy's MyLink infotainment system which includes navigation, a Bose surround audio system as well as wireless charging in the center armrest for compatible phones. This is the only model receiving a 120V power outlet which is a shame, especially since this was previously available as an option across the range.
[ngg_images source="galleries" container_ids="469″ display_type="photocrati-nextgen_basic_thumbnails" override_thumbnail_settings="0″ thumbnail_width="120″ thumbnail_height="90″ thumbnail_crop="1″ images_per_page="20″ number_of_columns="0″ ajax_pagination="0″ show_all_in_lightbox="0″ use_imagebrowser_effect="0″ show_slideshow_link="0″ slideshow_link_text="[Show slideshow]" order_by="sortorder" order_direction="ASC" returns="included" maximum_entity_count="500″]
Release date & Price of 2018 Chevrolet Impala
Although there is no official word on the release date of 2018 Chevrolet Impala, the car should be made available during 2017. Unofficial sources from industry claim that Chevy plans to start the production of new Impala later this summer. In addition sources such as carsdirect.com claim that the first deliveries will happen in July. We are not that optimistic and expect the first model in dealerships in autumn months. Probably in late November.
The current version of Impala depending on the trim and equipment goes from $28,375 up to $36,720. While the price won't change too much, we expect a small increase. The entry model will probably keep its price will the expensive versions are going to go close to $40,000 mark. Like it was the case with previous models, new Impala will be available on loyalty and conquest lease deals which should attract new and retain old customers. With new looks, and improved interior and tech 2018 Impala should hold its ground against models such as Honda Accord, Toyota Camry, and KIA Cadenza.