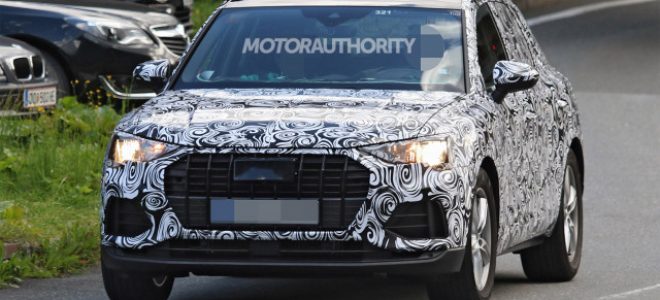 The Q3 is Audi's first transverse-mounted front engine crossover which was released back in 2011. Since then it didn't change all that much with its biggest update giving the car a revised front end and that's about it. However, it now looks like the Q3 will go through a much larger update. Even though the German manufacturer didn't say much, it looks like an all new version will be released with the future 2019 Audi Q3. The car was actually spied testing on the open road and despite being heavily camouflaged, the changes were still obvious. For starters, the new model is going to benefit from a new platform which also underpins all their other front-wheel drive cars. The MQB should allow the Q3 to be lighter, stiffer and safer than before. The end result should be a car that will be better to drive, less prone to roll around corners and quite a bit better in terms of NVH levels as well. On top of that, it will do all of that while also being lighter which will aid with fuel efficiency as well.
Despite what most rumors said, the new Q3 is not going to be a rear or all-wheel drive only car. Thanks to being based on VW's MQB chassis, it means it will basically be a Golf on stilts. However, there is more to it than just that. For starters, the suspension system on the Q3 will be unique to it. Audi will likely want to give the car a sportier ride than that of the Tiguan while also offering a more comfortable experience. In order to do that, a set of adaptive shocks will likely be needed. Unfortunately it looks like the brakes will still stay the same as those on the Tiguan which are average at best.
2019 Audi Q3 Release date & Price
The prototypes of 2019 Q3 are being tested for some time now, but there is no word on the exact release date. The concept for this vehicle was supposed to debut in Frankfurt last month, but that didn't happen. The moment of the first presentation keeps getting pushed further away. Some sources say that it is possible that it makes a debut later this year. Los Angeles is one of auto shows mentioned frequently.
Other claim that there will be no 2019 Q3 this year. The word is that 2018 NAIAS is a more realistic location for the debut of new Q3. It is also possible that the German automaker is going to wait until March and Geneva Motor Show. Regardless on which auto show 2019 Audi Q3 greets the public, it will go on sale late in 2018 as 2019 MY.
The price is not available at this stage of its development. More will be known as the release date approaches. We believe that it will go up because the Q3 is getting its first significant upgrade in years. With both exterior and interior tweaks, and powertrain updates the cost will be higher than it's today. The ongoing version of Audi Q3 is available at $32,900 at its entry level.
Under the hood – 2019 Q3 Specs
It looks like the base model of the 2019 Audi Q3 will feature a rather interesting engine. If the rumors are true then it seems like the base model will receive a 1.0-liter turbocharged-three petrol engine. With around 115 horsepower and little over 130 lb-ft of torque, this tiny engine will be best suited for those looking for great fuel economy without having to sacrifice much performance. A 1.6-liter diesel offering roughly the same amount of power is also a real possibility. The two are expected to be the only engines without an available automatic transmission or an all-wheel drive system.
Further up the range we should see a 1.5 liter turbo-four offering around 150 horsepower. With cylinder deactivation, this should be nearly as efficient as the base engine while offering much better performance. A 2.0-liter diesel offering anything between 150 and north of 220 horsepower is also a real possibility. Audi's great 2.0 liter turbocharged petrol engine, which is known to make as much as 250 horsepower, is also expected to be offered on the higher end versions of the car. All of these will be available with an automatic gearbox, likely VW's new 7 speed DSG unit, and either front or all wheel drive.
In the near future, the 2019 Audi Q3 will also receive two performance versions. The SQ3 is expected to offer 310 horsepower from a 2.0 liter petrol engine or 240 horsepower from a possible 2.0 liter diesel. The range-topping RSQ3 on the other hand is likely going to boast a 2.5 liter turbo-five good for as much as 400 horsepower and over 350 lb-ft of torque.
[ngg_images source="galleries" container_ids="507″ display_type="photocrati-nextgen_basic_thumbnails" override_thumbnail_settings="0″ thumbnail_width="120″ thumbnail_height="90″ thumbnail_crop="1″ images_per_page="20″ number_of_columns="0″ ajax_pagination="0″ show_all_in_lightbox="0″ use_imagebrowser_effect="0″ show_slideshow_link="0″ slideshow_link_text="[Show slideshow]" order_by="sortorder" order_direction="ASC" returns="included" maximum_entity_count="500″]
The design of new Q3 – Inside and Out
The interior of the 2019 Audi Q3 will be a huge departure from the original. The current model has a rather upright-looking cabin similar to the first generation of the Tiguan. It looks like this will not hold true for the future model which should boast a cabin more similar to the A4. Expect less vertical surfaces as well as a much more minimalist-looking dashboard.
The car's exterior on the other hand will actually be less striking than first thought. From the spy shots we can clearly see a car that is quite similar to its predecessor. The wheelbase definitely seems longer and the car is wider too. However, the rear is nearly identical to the current car with the only difference being the tail lights which are now of a split design. In the front on the other hand the car definitely has influences from the new A8 with the much sharper grille and the slimmer headlights.