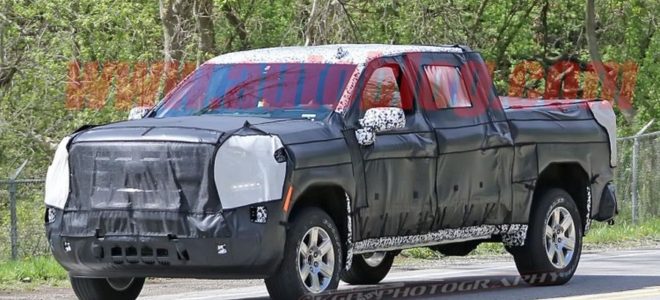 Even though the Silverado is good, it can't really match its arch rival when it comes to fuel consumption or technology. This is going to change though because GM has been working on a successor. The 2019 Chevrolet Silverado has been spied testing a few times so far and it seems to be a different beast altogether. For starters, the new truck is likely going to be based on an entirely new chassis. This hasn't been confirmed so far but it seems this is the case. The truck spied a while ago had a different wheelbase than the current version. On top of that it was both wider and taller than its older counterpart.
Even though Chevrolet has been heavily criticizing on Ford's aluminum usage on their truck, it seems the Silverado won't be much different. In fact it is safe to assume that the 4th generation of the Silverado will get an all aluminum body as well. It is a well known fact that Chevrolet has been working on improving the aluminum process used by their competitors. If this is the case then expect a lighter, more fuel efficient and more capable truck than before. The price shouldn't be heavily impacted. In fact the base truck will still cost well under $30,000 which is on par with its rivals.
2019 Silverado Interior and Exterior
The camouflaged 2019 Chevrolet Silverado had a few unique design notes that are not available on the current model. For starters it seems that both the front and rear wheel arches are considerably curvier than on the outgoing model. The hood also seems to have a more aggressive angle to it which suggests a more aerodynamic body than before. The bed seems to boast a new type of tailgate step which GM trademarked specifically for this application. The grille is unfortunately not that easy to spot through all that camouflage. However, the split headlight design as well as the really slim main-beams suggest that the truck may come with fully LED-lit lights.
One of the largest unknown factors about the upcoming Silverado has to be the interior. Despite that we do know GM is currently trying to offer a more modern design across most of their vehicles. While we do not expect a curvy dashboard, we do hope the Silverado will get better materials, more equipment and better safety features.
2019 Chevy Silverado Engine options
One of the largest problems of the 2019 Chevrolet Silverado will likely be the lack of a diesel engine. While we would love it to receive one, it is highly unlikely, especially since GM doesn't really have a suitable engine for it. However, the truck will offer better fuel efficiency with the help of turbocharged smaller displacement engines. Thanks to the massive weight loss the 2019 model might even receive a 2.0 liter turbo-four offering in excess of 300 horsepower and 300 lb-ft of torque. A twin-turbo V6 with north of 400 horsepower is also a real possibility.
Like before the truck will remain rear wheel drive while a four wheel drive system will be available as an option. All versions will come with a standard 10 speed automatic which should further boost fuel efficiency. Some also suggested that GM will ditch their old 5.7 liter V8 in the favor of a larger engine. It seems that they may end up installing a new generation DOHC V8 which could offer in excess of 500 horsepower. This would likely be tuned for this truck application in order to offer better low-end torque than the usual engine. Unfortunately a hybrid is still out of the question but we do hope GM will be able to give it a more fuel efficient engine offering.
2019 Chevrolet Silverado Release date and Price
With every passing day, the work on new Silverado is closer to completion. Despite the spy photos emerging every little, we won't see a production ready model by the end of the year. Maybe in late months but even that is a long shot. With this model, Chevy wants to become the bestseller, and they want it even more because the vehicle which is selling the most in the US is Ford's premium truck the F-150. I order to dethrone their biggest rival they will present their vehicle early in 2018 at NAIAS. The dealership release date of 2019 Chevrolet Silverado is set for the summer months of next year.
Price will remain close to what we have today, and that is good news. The changes which are being done to the Silverado won't merit any substantial rise. Nevertheless, you will have to pay $28,000 for entry model while the top tier High Country will be priced in a region of $60,000. With price range, this broad there is sure to be merchandise for everyone's taste. Let's wait and see does new Silverado has what it takes to be the most sought-after truck out there.