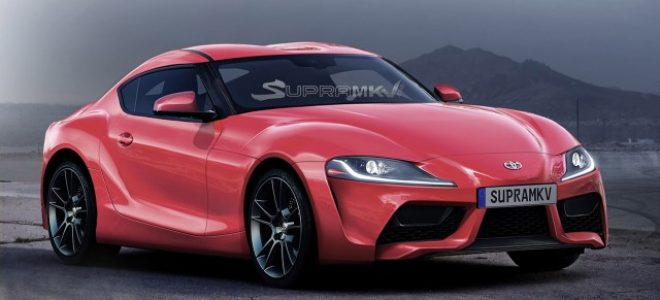 The last Supra to roll off the production line was back in 2002. Since then Toyota released a couple of prototypes as predecessors for a future Supra. However, up until a couple of years back these remained nothing more than just concept cars. However, more recently things changed. Toyota went ahead and released the FT-1 concept as a possible release candidate for a future Supra. Later down the road they announced that this will not be the production Supra. Instead, Toyota said they teamed up with BMW in order to create a future sports car. it looks like this car will be revealed as the 2019 Toyota Supra and even though there are still quite a few missing details about it, we do have a pretty good idea about what to expect.
While the previous model was based on a Toyota platform, the new Supra will share its underpinnings with the upcoming BMW Z4. This means that it will be noticeably smaller than its predecessor which is quite interesting to see. The car will have a similar wheelbase but it will be considerably shorter. On top of that, the car seems quite wider than its predecessor, all of which should help the new Supra be quite a bit more stable at high speeds. Thanks to being built by BMW, the car will also boast more exclusive materials than before. The entire car will be built out of aluminum while some parts will be made out of carbon fiber. The end result should be a really lightweight vehicle that will handle better than most others out there.
2019 Toyota Supra Price & Release date
Almost all of the reports suggest that new Supra will be built in Austria, by Magna Steyr. The goal is to produce 60,000 pieces a year. With production starting at an undisclosed date in 2018, the vehicle will arrive as 2019 MY. Earlier reports suggested that a concept might be introduced at this year's Tokyo Motor Show which is on the program from 25th of October.
The price of the new Supra will be in the region between $35,000-mid$40,000. This is far less than what the last installment cost before it was discontinued. The Japanese manufacturer's goal is to make it affordable at the entry level, while the price would go up for the performance-oriented versions.
The design – Exterior
It seems like the 2019 Toyota Supra will still share a few design cues with the FT-1 concept despite the fact the rumors said otherwise. In the front it will receive a similar lower-bumper design to the concept. However, the upper part of the body will be more similar to Toyota's later concepts which is not necessarily great. In fact we can clearly see from the camouflaged prototype that the production car will feature a rather unusual look. We do hope it will not be as bland as some rumors are saying but only time will tell. One of the most interesting pieces of information we have is about the car's roof. Even though this has yet to be confirmed, it seems like the new Supra will actually feature a targa-top roof which is always great to know.
[ngg_images source="galleries" container_ids="503″ display_type="photocrati-nextgen_basic_thumbnails" override_thumbnail_settings="0″ thumbnail_width="120″ thumbnail_height="90″ thumbnail_crop="1″ images_per_page="20″ number_of_columns="0″ ajax_pagination="0″ show_all_in_lightbox="0″ use_imagebrowser_effect="0″ show_slideshow_link="0″ slideshow_link_text="[Show slideshow]" order_by="sortorder" order_direction="ASC" returns="included" maximum_entity_count="500″]
The interior – Inside The Cabin
As expected, the 2019 Toyota Supra will only feature two seats. This has been confirmed a while ago but it was made clear by an insider quite recently. On top of that, it looks like the rumors saying the car will be nearly identical to the Z4 are not true. It will still use BMW's iDrive system but this will be the only similarity between it and the Z4. The software will be modified in order to better fit the car and it looks like everything else will be all new. On top of that, the Supra is actually expected to boast nicer materials than its sibling due to its targeted market segment.
Under the hood – 2019 Supra Specs
A couple of months ago there have been some rumors about the future 2019 Toyota Supra which said the car will get a 3.0 liter BMW engine. It now seems that this may not be true. In fact an inside source said the Supra is likely going to feature Toyota's all new 3.5 liter twin-turbocharged V6. This debuted in the Lexus LS where it is capable of over 400 horsepower and 400 lb-ft of torque. This would allow the Supra to outrun pretty much any other sports car in its class but it might drive its price way too high.
On top of that, this source also said the car will definitely feature a 6 speed manual gearbox which is reassuring. An automatic, likely provided by BMW, is also more than possible. Both of these will give it similar performance numbers but the automatic should be superior. A 2nd engine option is also a real possibility. It looks like the hybrid everyone was talking about last year is still possible. This could give the car north of 400 horsepower while using with up to 30% less fuel than the V6.