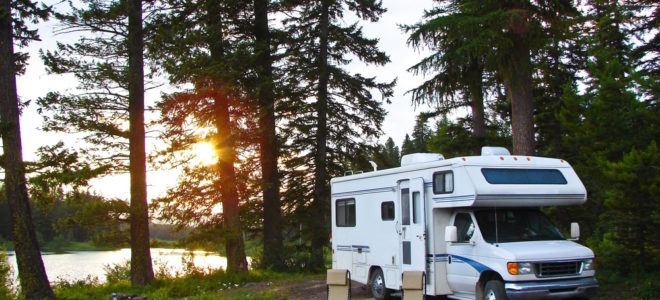 There's nothing better than renting or buying an RV and then going on a camping trip with your friends or family. You will have a great time during the trip to your camping spot, during your camping and when you are driving back. Basically, everything is an adventure when you are traveling.
However, when you go out in the wilderness, it is not just about having fun and adventures with your friends. You will also have to survive. Sure, you could bring your own food and water, but there's still a bunch of other factors you will have to consider when going out on an adventure. Whether you plan to pitch a tent or sleep in the RV, it is up to you, but you will still need the camping essentials.
Talk to your friends or your family members to decide which person is going to bring a certain item. If you bring a tent, then someone else will need to bring a map, a third would need to bring a flashlight and so on.
So, here is a short guide to help you pack for your next camping trip with your RV.
A sleeping bag
This is one of the most important items when going out on an adventure. Even if you plan to sleep most of your time in your recreational vehicle, it is still a good idea to bring a sleeping bag with yourself.
To experience true wilderness you would need to sleep at least one night outside right? You do not have to go deep in the woods, just place the bag next to your RV, turn off the headlights, place a few rocks in a circle and light a fire. You can then enjoy the beautiful view of stars.
Keep in mind that the temperatures at night can get very low, especially if you are located in the wood. So, ensure that the sleeping bag you purchase is thick enough to keep you nice and warm throughout the cold nights. Although, if you are located in a warmer climate, you can just get a thinner one since those can be much lighter.
Water
The most important resource for human life is water. This means that you cannot go anywhere without packing enough water. You can get a 24-pack of water bottles or you could fill the water tank before you go on your trip (if you have one).
However, since you will probably be constantly going on hikes and walks around the area, carrying a regular plastic bottle won't do the job. Get yourself a metal and isolated water bottle to keep the water as cool as possible and to reduce the amount of plastic littering.
You will definitely appreciate a sip of cold water after you have been hiking for hours and hours under the sun.
LED Flashlight
We recommend that everyone you invite on this trip to have at least one flashlight. No matter where you are or who you are with, you should always have a clear view of the things you have in front of you and whether the path is safe to walk on.
Advise everyone to get a compact and lightweight LED flashlight for maximum brightness. Although, getting one is not just about safety. What's better than hiking through the day in a forest? It's hiking through a forest in the night.
So, if you want to experience an awesome adventure, get your flashlights out and go out there deep in the woods. Check out Skoolie Livin, to find out about other items you could pack on your next camping trip.
First Aid Kit
If you are careful and everything goes according to plan then you will probably never need to use a first aid kit, but it never hurts anyone to have one. You don't have to purchase one as you can buy the contents by yourself.
You will need a few bandages, a gauze, some tape, tweezers, few types of painkillers in case someone cannot consume a certain brand, antibiotic cream and a bunch of other medical equipment that might be useful in an emergency.
When purchasing the products keep in mind the number of people that will be with you on the trip.
A paper map
Of course, every single one of us has one of the world's most advanced maps right there on our phones. Whether you have Apple Maps or Google Maps, you can get information about any area you want.
However, what's the point of going out in the wild just to look at your phone to navigate yourself. Give yourself and your friends a bit of an adventure by buying a paper map and a compass to help you navigate. It will be like you are on a treasure hunt.
It's also important to keep in mind that you might not have any service out there in the woods, your phone battery might die or you might lose your phone. Any of these situations are very possible which means that having a backup paper map in your back pocket is always a great idea.
Swiss army knife
Well, it doesn't have to be a Swiss army knife, but you get the idea. Having a multi-tool by your side is never a bad idea. You will have everything you need right there in your pocket. Whether it's a screwdriver, scissors, a knife, and many other tools that might prove useful.
You will definitely need it whether you want to cut some branches to start your fire, whether you want to open a can of food or whether something breaks down in your RV.
Although, note the weight of the multi-tool when you are buying one because you do not want something that weighs several pounds hanging in your pocket while you are out hiking. It will tire you out much faster.
Stove
You might have one inside of your RV, but there's definitely nothing better than brewing your coffee outside. The smell of the brew and the smell of the trees and plants is an amazing combination.