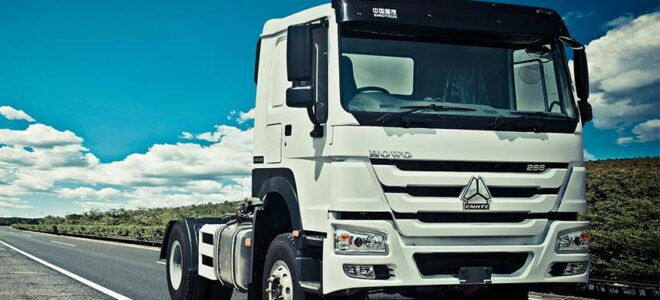 China National Heavy Duty Truck Group Corporation (CNHTC), formerly known as Jinan Automobile Manufacturing General Factory, was established in 1930, and was the cradle of China's heavy-duty truck industry, producing China's first heavy-duty truck, the Yellow River JN150 eight-ton truck, in 1960.
Now China National Heavy Duty Truck has become the largest heavy-duty truck production base in China, and is the heavy-duty truck enterprise with the most comprehensive drive form and power coverage in China's heavy-duty truck industry, making outstanding contributions to the development of China's heavy-duty truck industry and national economic construction. The enterprise mainly develops, produces and sells various kinds of heavy-duty trucks, special trucks, buses and special trucks as well as engines, transmissions, axles and other assemblies and truck parts, and has a full range of commercial truck brands such as Yellow River, SITRAK and HOWO. Our products are exported to more than 110 countries and regions, and we have kept first place in the national heavy truck industry for 15 consecutive years.
The combination of the internationally renowned independent brand and multi-brand strategy, the independent brand gives SINOTRUK high recognition overseas, while the multi-brand gives it comfortable marketing.
Under the corporate brand of SINOTRUK (China National Heavy Duty Truck), HOWO and SITRAK , etc., have given SINOTRUK good tools and means in the development of the international market. In other words, in countries with large demand volumes, Heavy Duty implements sub-brands to establish marketing networks, which is similar to the regionalization experience in the domestic market.
For example, the north of Vietnam is mainly heavy industry, the central part is a grain-producing area, and the south is mostly light industry and electronics, with different regional characteristics and different demands for products, it is necessary to respond to the segmented demand with multiple brands.
In the first half of 2023, China National Heavy Duty Truck achieved exports of 48,300 units, up 46% year-on-year, with export sales accounting for most of the total exports of the domestic heavy truck industry, ranking first in the Chinese market.
Since its entry into the international market, CNHTC has continued to explore the market and achieved sales of medium and heavy trucks in more than one hundred countries and regions around the world, exporting nearly 500,000 complete trucks in total. Up to now, the total export volume of medium and heavy trucks of CNHTC has ranked first in the world.
The following are some of the truck types that are exported by Heavy Duty Truck.
1. Construction truck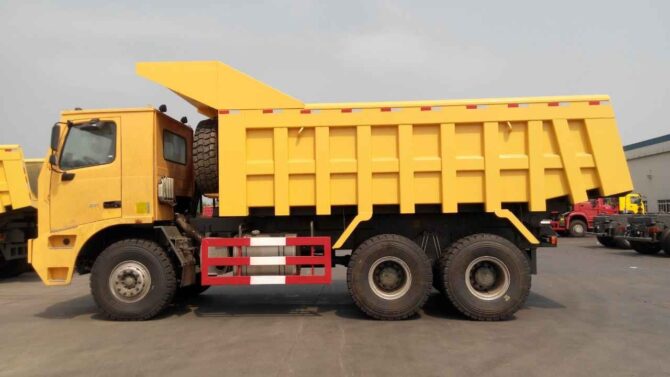 Classification
1)Dump truck is a truck that unloads cargo by itself through hydraulic or mechanical lifting. By the truck chassis, hydraulic lifting mechanism, cargo compartment and pick-up device and other components.
The carriage of a dump truck is divided into two kinds of backward tipping and lateral tipping, and the movement of the piston rod is controlled by the longitudinal system of Sang, the backward tipping is more common, and the live number rod is pushed to make the carriage tipping, and a few lateral tipping.
(2)Mixer truck is a special truck used to transport concrete for construction, consisting of a truck chassis and a special device for concrete mixing and transportation. Its special mechanism mainly includes power take-off, front and rear support of mixing cylinder, reducer, night pressure system, mixing cylinder, operation mechanism, cleaning system and so on. This type of truck is equipped with a cylindrical mixing drum to carry the mixed concrete.
Features
Engine: Due to the complex road surface of the construction site, the ground is soft and potholes, so the truck must meet the requirements of sufficient power, high torque and low starting speed, that is, "low-speed heavy load high torque".
Load-bearing capacity: Compared with ordinary trucks, dump trucks have higher requirements for dynamic load and impact resistance, and the rear axle and rear suspension have to be strengthened.
Pass ability: Due to the uncertainty of the working environment of the dump trucks, the site conditions are poor, and the truck's pass ability requirements are high.
Reliability: Because of the strict requirements of construction sites on the duration of work, the site-type dump truck must have fewer failures, high efficiency and high reliability.
Road trucks

Classification
(1) Tractor is a large truck or semi-trailer used for the transport of goods and is a tool connection between the front end and the trunk.
(2) The cargo box and frame of the truck is an integrated structure, mainly used for the transport of goods.
Features
Comfort: driver air seat, cab front spring and rear airbag four-point suspension design, comfortable and safe
Economy: There are two versions of standard weight and load according to the different use scenarios, which can be selected according to the demand. The standard weight version adopts a lightweight design, TGA single-layer frame, aluminum alloy air reservoir, front and rear fewer leaf springs, etc.; the load version selects 8+8/300 double-layer frame, front and rear reinforced multi-leaf springs.
Reliability: The addition of international famous brand parts with MAN technology axles is stable and reliable.
High efficiency: Large fuel tank option ensures long-distance transportation, reduces refueling times and improves efficiency.
Special trucks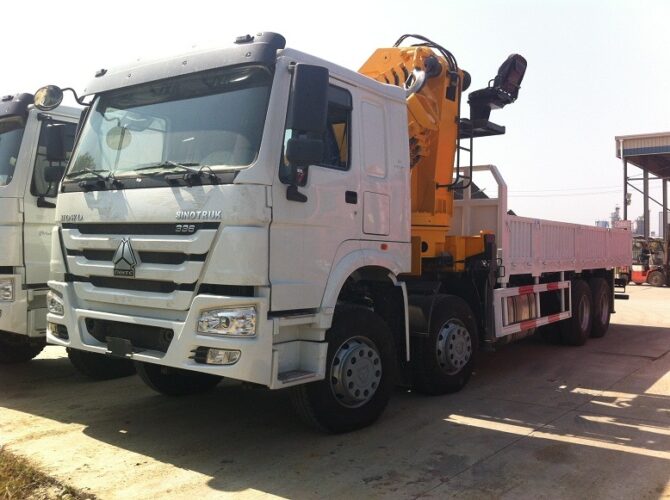 Definition:
Installed with special equipment, with special functions, used to undertake special transport tasks or special work and other special trucks.
Chassis characteristics
Special requirements for chassis layout. For example, frame design requirements, wheelbase special requirements, fuel tank/battery tank setback, etc.
Special requirements for the chassis wiring harness and electrical. For example, the requirement to reserve the length of the wiring harness beyond the frame, reserve external instrumentation harness, and electrical special interface requirements.
Special requirements for the chassis brake. For example, the brake air chamber is low.
Special requirements for truck configuration. For example, increase the shaft extractor, drive shaft special design, etc.
Classification
(1) Sanitation models: sweeper, road sweeper, sprinkler, hook-arm truck, dumping garbage truck, snow removal truck, dirt-absorbing truck, garbage level cleaning truck, kitchen truck, dust suppression truck, high-pressure cleaning truck, etc.
Fire emergency models: main battle fire truck, high spray fire truck, water tanker fire truck, ladder fire truck, dry powder fire truck, chemical fire truck, foam fire truck, hook arm fire truck, an emergency rescue truck, emergency communication truck, emergency command truck, emergency security truck, a drainage rescue truck, camping truck, etc.
Lifting models: truck cranes, truck cranes, clearance trucks, measurement and inspection trucks, aerial work trucks, bridge highway maintenance trucks, etc.
Transportation operation models: fruit and vegetable refrigerator, meat hook refrigerator, aquatic refrigerator, frozen food refrigerator, drug refrigerator, vaccine refrigerator, asphalt sprinkler, TV relay truck, mobile power truck, road maintenance truck, synchronous sealer truck, powder tanker, money carrier, medical truck, etc.
Critical chemical models: flammable liquid tanker, corrosive goods tanker, explosives truck, airport refueling truck, gas cylinder truck, blasting equipment transporter, low-temperature liquid transporter, etc.
Pumping models: concrete pump truck, truck-mounted pump, slurry truck, etc.
Oilfield models: oilfield cementing truck, oilfield fracturing truck, crude oil transfer truck, oilfield liquid supply truck, oilfield well repair truck, oilfield drilling truck, oilfield logging truck, oil transport truck, etc.