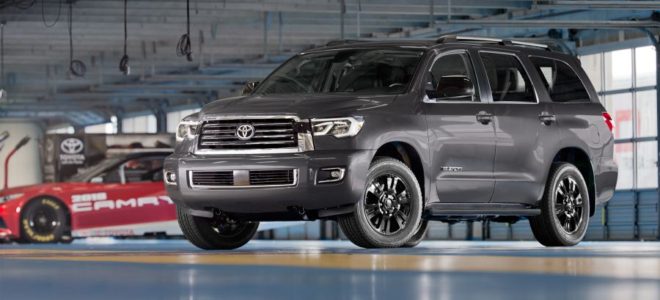 05/23/2017 UPDATE: 2018 Toyota Sequoia debuted at 2017 Chicago Auto Show in its TRD Sport outfit. The model is intended to attract new customers and to satisfy the faithful ones with its new appealing look. This version of Toyota Sequoia comes with a mid-cycle facelift which will cover entire lineup. The updated model will be in showrooms by the end of September, so we have a short wait before it arrives. What makes TRD Sport version of Sequoia stand out are custom-tuned Bilstein shocks and all-new TRD front/rear anti-sway bars that will vastly influence handling and cornering behavior of this SUV.
New Sequoia will come available in Super White, Magnetic Gray or a new Midnight Black color. Up front, you will notice a new look on front fascia spiced with a bulky grille. Other notable details include 20-inch alloy wheels, black mirror caps, smoked taillamp lenses, and TRD Sport badges distributed across the vehicle. On the inside, the trail of black color continues across the upholstery, all seven seats, shifter, floor mats, and door sills. TD Sport trim will be positioned in between SR5 and Limited and as such it will also have leather details on the inside. From other features, it will be equipped with Entune Premium Audio with Integrated Navigation, power front seats, reclining/fold-flat third-row seating and more. All of this will come as a part of an SR5-style Premium Package.
Regarding the engine lineup, everything will remain the same. Across all trims, you will find the current 5.7-liter i-Force V-8 mated to a six-speed automatic transmission. The engine bay is the only place on the car where nothing changed. Moving away from it, you will find all-new LED headlights, DRLs fog lamps, and customized grille inserts which each complement different color of the exterior. Inside the cabin, there are new trims, revised console, redesigned instrument cluster improved by a new Multi-information Display. Looking at the safety and driver-assistance part of the car, there are some changes as well. They mostly focus on Toyota Star Safety System which has been improved by adding the more advanced TSS-P (Toyota Safety System). This system includes the features such as Lane Departure Alert, Pedestrian Detection, Auto High Beams and Dynamic Radar Cruise Control. All of this is available on all trims (SR5, Limited and PlatinumTRD Sport).
There is no pricing set for 2018 Toyota Sequoia. More will be known when the SUV approaches its release date in September.
01/13/2017 Review: The full size SUV market is going to become a lot more competitive in the upcoming years. Nissan released a new Armada, GM released two new models a couple years back and both Ford and Toyota are about to release new cars as well. We are now going to take a small peek at the upcoming 2018 Toyota Sequoia which is set to replace the model released back in 2007. The new car will be released alongside the new Tundra which is already well past its expiration date. So far Toyota hasn't offered any information about the two models but it seems they are in fact testing test mules. These are likely using the old sheet-metal in order not to attract any attention.
New Sequoia – More details
The upcoming Sequoia will be a completely new model. For starters, it is going to use the chassis found in the new Tundra. This will be made mostly out of high strength steel but it seems that some aluminum parts are possible. The body will be made mostly out of steel but some items such as the fenders, doors, the tailgate or even the hood might be made out of aluminum. Thanks to that, the weight of the car may drop from the current 5,700 pounds to less than 5,000 pounds. In this case it would become one of the lighter models which would allow for better performance, fuel consumption and comfort. The release date is likely going to be set in the second half of 2018 with the production version coming shortly after that.
The design of 2018 Toyota Sequoia
The ongoing model looks pretty much identical to the original Tundra. However, the truck has been revised but the SUV didn't. The reason for this is unknown but it seems Toyota thinks the new lines found on the truck wouldn't fit it. The upcoming 2018 Toyota Sequoia on the other hand will receive an all new design. Just like Ford will give the Expedition a new look, the Sequoia is expected to depart quite a bit from the truck. The front end is likely going to receive a more car-like appearance, likely similar to what the Highlander is boasting. In terms of size, the new model should be similar to the current generation.
Inside the cabin of new Sequoia
While the current car didn't lack any luxury features, it was just too similar to its truck counterpart. The new model is expected to, once again, receive a completely new design. It will also receive Toyota's newest technologies which debuted on their crossovers such as frontal collision warning and more. The materials will likely be on par with the top of the range Tundra models. A high end version that will get to the levels of comfort found in the Land Cruiser is also a real possibility.
Under the hood
The aging 5.7 liter naturally aspirated V8 is expected to be gone from the 2018 Toyota Sequoia. Instead, the car is expected to receive both a diesel and a new petrol engine. Toyota has been working on a new 3 liter twin-turbocharged V6 to replace most of their high performance engines. So far it seems that this engine would make 400 horsepower and 325 lb-ft of torque which is a bit too less for the truck-based SUV. However, considering it is a turbocharged mill, it would likely be capable of delivering a lot more than that. It remains to be seen what the finished product will actually be able to offer. The transmission of choice will likely be an eight speed automatic. At this point it seems that a towing capacity of around 7,000 pounds is more than likely. Rear wheel drive will be standard while all wheel drive will still be available as an option.