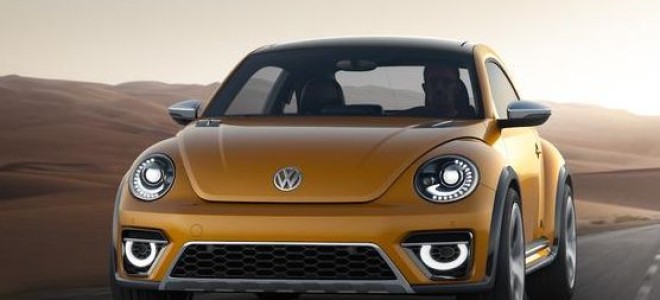 German automaker presented the concept of this car at the 2014 Detroit Auto Show, and fresh news is that this model will start its serial production as a 2016 model year. The model is the off-road version of the standard Volkswagen Beetle model, which is already very popular all over the world. The 2016 Volkswagen Beetle Dune will come with characteristic styling and mechanical elements adjusted for off road driving.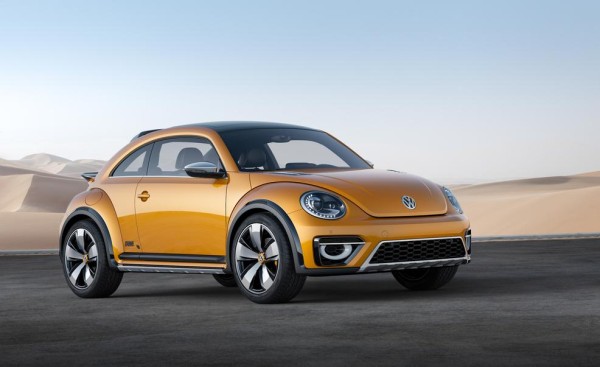 2016 Volkswagen Beetle Dune redesign
As far as the outside appearance goes, the car will remain faithful to the traditional beetle look, but with modern lines and more aggressive look. The grille will be redesigned, as well as headlights and taillights. Custom-made hood, Crescent-shaped fog lights, and various others styling cues will separate the Beetle Dune from the Beetle, such as new alloy 19 inch wheels with 245/40R19 tires, and a spoiler in the back. Furthermore, a higher ground clearance, 2 inches more than the standard beetle is expected, and it is 2.2 inches wider and 1.1 inches longer.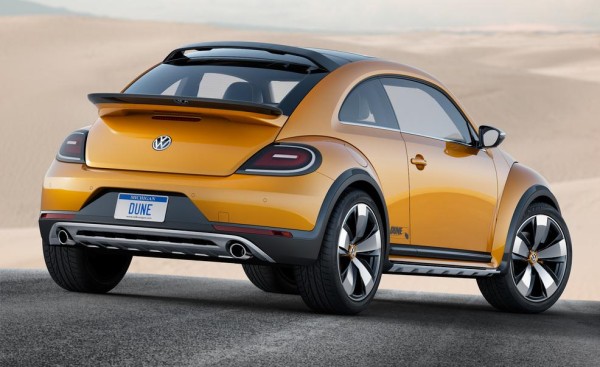 When you take a look inside the cabin, you will find a 7.7-inch AMOLED touchscreen interface, more rough overall styling, suitable for Dune's purpose – off road drive. The designers have also added Volkswagen Sideways App to the list of features, combining the modern technology with the classic off-road styling. The color design of the interior is Titan Black Leather for the seats, with a combination of ceramic colored Gobi fabric inserts.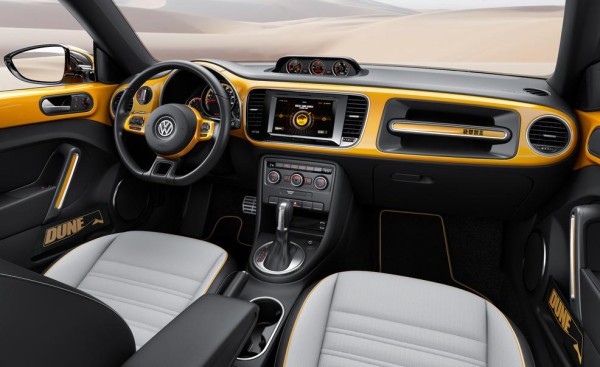 Volkswagen Beetle 2016 Dune specs
The same engine that was fitted in the concept will be found in the production version, and the 2016 Volkswagen Beetle Dune will be powered by a 2.0 l direct-injected turbo 4-cylinder engine capable of delivering 210 hp and 207 lb-ft of torque. The engine will be paired with a manual or automatic 6-speed DSG transmission. The new car will be able to go from 0 to 62 mph in 7.5 seconds, and will reach a top speed of 140 mph. The Dune's fuel economy is rated at 23/29 mpg. When compared to the basic Volkswagen Beetle 1.2 l TSI, this engine is significantly stronger. The Dune will not have AWD; the drive is exclusively FWD, assisted with electric XDS differential.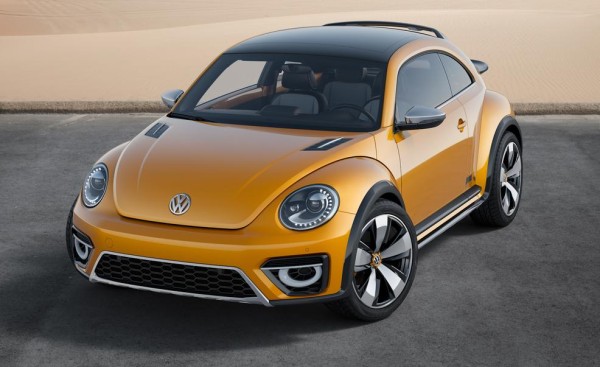 2016 Volkswagen Beetle Dune release date and price
In Europe, the 2016 Volkswagen Beetle Dune will be available at the end of this year, while the other markets will have to wait until the beginning of the 2016. The car is expected to cost around £18,000 for the base model, and go slightly higher, depending on the selected equipment.