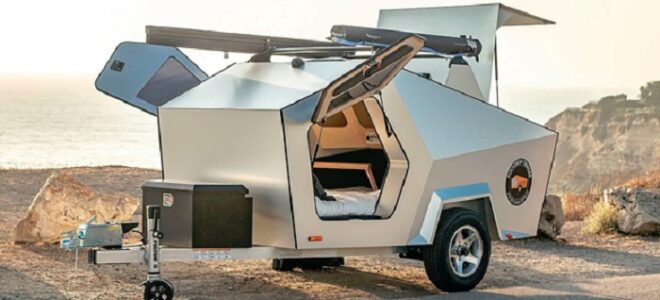 Teardrop campers have an age-long history. The first design of teardrop camper dates as far back as the 1930s. It started as a small, portable, and towable recreational vehicle, but has grown to become people's preference. The teardrop camper owes its popularity to a host of features.
One of them is that they allow for a more exciting camping experience than most other campers. It also has a small size, making it the choicest recreational vehicle among bikers, hikers, climbers, and surfers.
Little doubt that friends who love to see more countries or go on road trips, and new-wedded couples looking for a holiday getaway prefer this one, over the other trailers on the market.
Teardrop: size & dimensions
The teardrop camper is one of the smallest and most conducive campers out there. That doesn't mean it lacks the basic features present in other categories of campers. It has a rounded end on one side and a tapered end on the other, hence its name.
The small size makes it lightweight and weighs about 1,000 pounds, making them one of the lowest in the market. A typical model comes with a width that ranges from 4 feet to 6 feet, and the length can vary from 6 feet to as high as 10 feet. Generally, the height and the width have similar dimensions, which tends to decrease towards the tapered end.
Features and Travel Essentials
Most of the typical models contain different amenities, depending on the user's preference. A typical one has a bedroom and exterior wheels that are covered by fenders. Some of the larger versions come with a bed, kitchen, and dining area.
Some other designs have a galley, an exterior attachment, used for cooking. Clothes storage and storage batteries for electricity and lighting are also present in most models. Some of these designs are available on Zervs, an online marketplace for some of the best campers in the market. There are varieties from which buyers can make their choices.
The beautiful design, vintage aesthetics, and small size of teardrop camper are features that stand it. Any picnic lover and campers will fall in love with this one. Its small size means you don't have to worry about the stress of packing it when you visit the national pack. Besides, the beautiful hues of colors with which they are adorned are eye-caching.
Does it come with BATHROOMS?
The small size of teardrop campers can beg the question of whether or not they come with bathrooms. The answer is Yes and No.
It comes with various wet bath sizes, which are tagged max, minimax, and camp rover. In addition to bathrooms, most teardrop campers also incorporate swivel toilets, folding sinks, and faucets.
However, the small ones do not come with any bathroom or wet bath. Users often rely on national and state parks whenever they camp in those places. Most of the national parks offer a neat and easy to use bathroom and toilet for campers. So, the absence of restrooms should not discourage you from buying a teardrop camper, even these smaller ones.
However, if you must buy a teardrop camper with a custom bathroom, your go-to place is Zervs. They are home to some of the best teardrops in the market, and you can easily select anyone that matches your needs and catch your fancy.
Prices
They are one of the most affordable RVs in the market. However, the prices may vary depending on the features that come with each. The prices range from those with just off-road tires to the other versions that have solar power installed on them.
Dealers also matter when discussing the prices of a teardrop camper. Zervs.com is tested and trusted. They ensure to regulate the prices that sellers of used RVs place on their product. So, you are getting value for money when you purchase from them.
Choosing recreational Vehicles
No matter your budget or taste in recreational vehicles, you have to make sure you select an RV that suits your needs. So, the first thing you want to consider when choosing an RV for comping is the location you are traveling to, and an estimate of people that will partake in the journey.
If you are going on a group holiday tour to one of the countrysides with rough terrain, there are likely to be many people moving. Thus, the much heavier RVs with roomy space, massive body, and large tires may be the best for your needs. Teardrop campers may not be suitable for this purpose.
However, if you are going on a road trip out of town or are just visiting the national park with your nuclear family members, your best pick may be one of the lightweight campers.
Once you have thought about your location, visit a park or showroom to purchase the RV that matches your needs. Several types of RVs are available on Zervs.com at affordable prices. They come with detailed specifications and buyer guides that enable you to pick the best RV for your needs.
While traveling in Philadelphia in the camper and you need temporary space for storing your baggage, just check luggage storage Philadelphia by Vertoe for safe spaces.