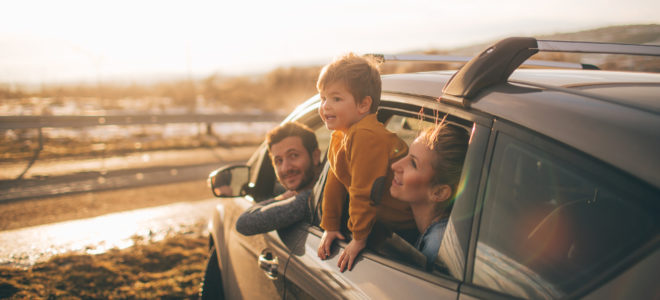 When you decide it's time to buy a new vehicle for your family, chances are you will have numerous options to choose from. In some cases, the different styles, models, features, and prices can be overwhelming. Going to a dealership without a clear idea of what you want can lead to overspending or ending up with a vehicle that is not a good fit for your needs. It's often a good idea to spend some time researching the available options and deciding what features you want in your new car. Here are some of the most vital things to look for when you are shopping for a family car.
1. Safety Features
You want to know your car will keep you and your family members as safe as possible. There are two essential safety factors: avoiding collisions and surviving accidents. There are several safety features on newer cars that can help you avoid collisions. You may want to look for a vehicle that has a backup camera, collision-avoidance system, and/or automated braking. Adaptive cruise control can be another valuable feature for both safety and convenience. In some cases, collisions can't be avoided, so you should make sure the vehicle you choose has features such as advanced airbags, an emergency alert system, and high crash-test ratings.
2. Entertainment Options
Even if you don't plan to take road trips very often, you may want to invest in a vehicle that has lots of entertainment options for your children. Integrated phone chargers and Wi-Fi hot spots can make it easy for everyone to listen to their own music or stream their favorite videos on the way to school. A good infotainment system can also make your time in the car more enjoyable. Some models include Bluetooth capability or access to hands-free navigation apps, such as Android Auto or Apple CarPlay.
3. Space
A family vehicle needs to have enough space for your children and all of their stuff. Chances are most car rides will include cargo, such as backpacks, sports equipment, and groceries. You need to make sure your vehicle will be able to fit everything you need to carry and also allow you to access things easily. A hatchback design may provide more space than a sedan. Some minivan models include additional cargo space in the floor.
4. Window Placement
You may not think much about the windows in your car because most vehicles have fairly similar window configurations. However, if you take the time to look, you may find that different makes and models do offer unique advantages in terms of windows. Having a sunroof or moonroof can help with airflow on hot days. Windows that start lower on the car's body can make it easier for little ones to see out, which may help prevent motion sickness.
5. Convenience
They may be many times when you approach your family car with your hands full. Upgrading to a model with some extra convenience features can help make your life a little easier. If you park your car outside a garage, you may want to install a remote starter. Some models have hands-free hatchback operation, allowing you to open the liftgate with your foot. A keyless entry option may also be helpful.
6. Fuel Economy
When you upgrade to a more family-friendly vehicle, don't forget to think about fuel economy. Some larger vehicles, such as SUVs and minivans, may not be as efficient as smaller cars. You may want to pay a little more for a hybrid vehicle or an electric car in order to save on fuel costs.
Choosing the right vehicle for your family may require some time and research. It's important to think about features that provide a higher level of comfort, safety, and convenience. You may also want to look for a car with a lot of cargo space and good fuel economy. Please click here to get more information about top features to look for a family car.